Using the desktop app on my MacBook connected to non-MQA DAC…results are brilliant. The HIFI version dull in comparison to the MASTER.
I can confirm blue light on the meridian explorer 2 so MQA via Roon works for Tidal stream

nice update from Tidal !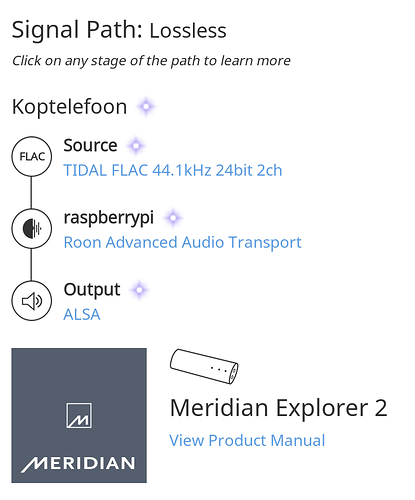 Just need a tweak to Roon signal path so that we can see it is a Tidal MQA file.
Yes, but we are talking about Tidal, where there is zero information in Roon…
Indeed only the 24 bit give it away (and the blue dot on the DAC

)
Come on train get me home to the music faster…
The Smiths has lit the Blue light on my Explorer 2. Yipee.
Are any of these playing at a res higher than 24/48? There are a few on the Tidal page that I have at 24/88.2 or 24/96.
Not found any yet, Joni Mitchell 'Blue' is now MQA. I had to go to my copy and search 'other versions' to find it. 48/24 bit
From the current list, Bowie, Zeppelin, Sabbath, Otis Redding, Mark Knopfler, Grateful Dead, Dr. John, John Coltrane, Allen Toussaint, Calexico (I think), Faces, & Jane's Addiction are all available over 48kHz. (I'm sure there are others as well.)
according to Tidal's FAQ thousands of albums…


What about software decoding? It looks like Tidal is decoding MQA to a high res PCM stream (I have not verified this myself).
Will this be implemented in Roon as well?
It's not just the desktop.
Right now, I can get my Bluesound and NAD streamers (both MQA enabled) to play these streams at MQA levels.
Actually, the Bluesound prducts will even unfold and output these files via digital out at 96/24, even to a non-MQA enabled DAC.
Tidal MQA WoW clean tight amazing come on Roon lets go integrate MQA
Just a few figures:
Madonna Like a Virgin: 192kHz
Coleman Shape of jazz to come: 192kHz
Coltrane Giant steps: 192kHz
Phil Collins Hello: 96kHz
Coldplay Parachutes: 192kHz
Tom Waits Bad as me: 96kHz
Perlman Dvorak: 96kHz
Karajan Tchaikovsky: 96kHz
Karajan Bartok: 96kHz
Perlman Paganini: 96kHz
Rattle Mussorgsky: 44kHz
All got the "Studio Approved" Dot on my Meridian system.
Rattle: puzzling because it was released on SACD in Japan and I suspect it was recorded in high resolution.