Every Sunday, almost without fail, I like to listen to one of four Arcangelo Corelli albums that I bought from Linn a while back. The Avison Ensemble are playing the instruments.
These are the albums:


Since 1.8 (I think, could have been earlier) this is my workflow.
Go to search box and type in "Corelli."

Arcangelo Corelli appears in the quick search drop down and I tap it.
Now, if I go to one of the albums that I am looking for (via a tag I put the albums), you will notice "Arcangelo Corelli" up top.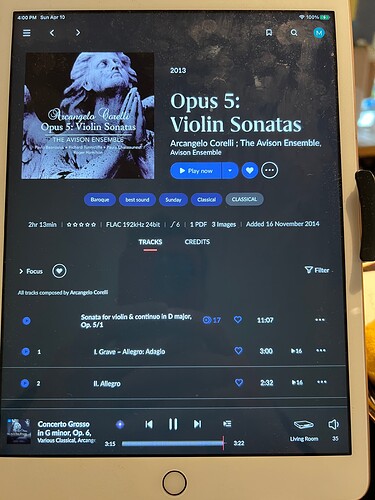 If I tap on the name, Roon goes back to "Arcangelo Corelli" artist page and the albums are not there!
WTH X 2. Definitely some flumox'n around these parts
Can anyone shed any light on this? Is it just another annoying side effect of how broke local searching is?
Thanks in advance.