According to the 1.7 release notes:
> Roon now supports multi-level compositions, which are particularly useful for opera where many compositions include Acts in addition to parts.
> When this data is available from our metadata providers, it will now be properly displayed on the Album Details page. It's also possible to populate this data by using the SECTION tag in conjunction with WORK and PART tags
Being able to group tracks in sections using SECTION tag is a nice addition. I have tested that and it works well. The issue I have is with Roon trying on its own to infer groupings based on data available from our metadata providers. Inappropriate or out-of-context data from providers can lead to severe errors on album pages, particularly with operas.
With operas, it is clear that the Roon software infers the groupings from the part/movement list that Roon fetches from AllMusic (I think) at the composition level. Note carefully that this list is not attached to a particular performance of a given opera as recorded on a given album, and there lies the problem. In the world of opera, many versions can exist for a given work, each with it own layout of acts and scenes. When performing a work, conductors often exercice their artistic freedom/judgment to somewhat arrange the libretto (omitting scenes, rewriting some passages, etc). At the recording level, parts of a scene can be recorded one part per track on one recording, whereas on a different recording, those parts can be merged in one track, leading to changes between albums in the way tracks are titled. What this all means is that trying to infer Act/Scene groupings for a given opera from a generic list inappropriate to this opera version/performance/recording can lead to gross errors in resulting the album page.
An easy example is the Don Carlo opera by Verdi. At least 5 versions exist for this opera. The act/scene groupings proposed by AllMusic at the composition level are as follows:
The performance on which this list is based is not indicated (and this is a major problem), altough it is clear that it reflects the 5 act italian version which Verdi produced based on his grand 5 act french one.
I have in my local library many performances of the Verdi Don Carlo. One is the Karajan 1958 recording at the Salzburg festival, reissued on DG inside the Karajan Opera boxset.
The tracklist for this recording as seen in the boxset booklet is as follows. Note carefully that Karajan uses the so-called Milan version of the opera, which contains 4 acts.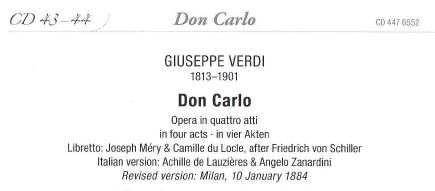 The tracks of this album have been carefully tagged with WORK/PART tags to exactly reflect the booklet tracklist . Here is the resulting album page displayed by Roon v1.7.
It is sad to see that Roon totally ignores the act/scene data clearyly spelled out in the track titles, and where it would be very easy to get. Rather, to infer its Act/Scene groupings, Roon goes straight to the 5-act list that AllMusic supplies at the composition level and tries to match the titles between the two. This just cannot work and is plain wrong.
The resulting album page is totally ruined by this effort by Roon to look smart and infer the track groupings on its own. That is not my definition of what artificial intelligence is all about. Alas, I see no way in the new 1.7 version to deactivate this Roon behavior. I could give you dozens of examples of this. My only recourse now to bring sanity to the album pages is to spend yet more time and effort to retag my files using the SECTION tag. This is time and effort I would prefer to spend elsewhere.
I have no idea of the percentage of cases where Roon grouping inferences may be correct. But the sole fact that Roon is wrong in a lot of cases similar to the one I presented above is, in my humble opinion, enough to raise a red flag. It is ironic that this new "feature" is touted in the 1.7 release notes as being particularly useful for opera where many compositions include Acts in addition to parts, when in reality it's the exact opposite.Could I ask the Roon team to issue a new release with this "feature" totally withdrawn?
Thanks
André Gosselin