Roon Core Machine
Roon ROCK 1.8 (build 923) on Intel NUC10i7FNK
Networking Gear & Setup Details
Connected Audio Devices
SOtM sMS-200ultra connected to System Audio Stereo Hub via usb
Number of Tracks in Library
Description of Issue
Hi!
I am located in Norway and have been trying to add a particular Bulgarian radio station to my Live Radio list. So far, neither the official url nor the TuneIn link work with Roon.
The station in regard is Darik Radio (https://darikradio.bg)
Official stream url:
https://darikradio.by.host.bg:8000/S2-128
TuneIn link:
https://tunein.com/radio/DARIK-RADIO-915-s1003/
With the TuneIn link, I can successfully add the station to my list (the official url cannot be resolved at all); however, when I hit "play", I get an error "Playback was interrupted because a track failed to load." (see below)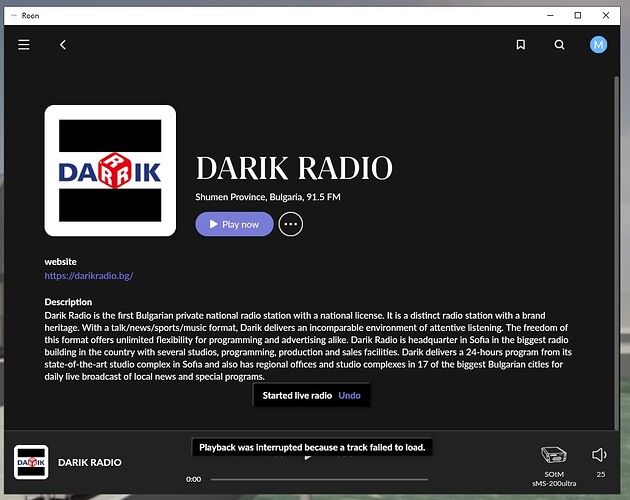 It is a mp3 stream, so it shouldn't be a codec issue. Other players like WMP or VLC Player work fine with the official url.
Can you check and eventually help?
Thanks,
miro