Anyone on here using the new naim unit atom with roon??
It's just working via Airplay.
Hi thanks for that kinda thought that was the case just checking see if I was missing something with my setup
Announced today. On demo at RMAF
How can i use roon with my uniti atom is it allready installed kn atom or i have to make update and how do u play by air play let me know please?!
Via Settings / Audio in Roon: if the Atom is switched on, there should be the selection option Airplay.
As of the new firmware today, you can use the (new) uniti (Nova, Atom, Star) as a Roon Ready endpoint directly.
They are auto-discovered by the Roon control app.

And then Playback is lossless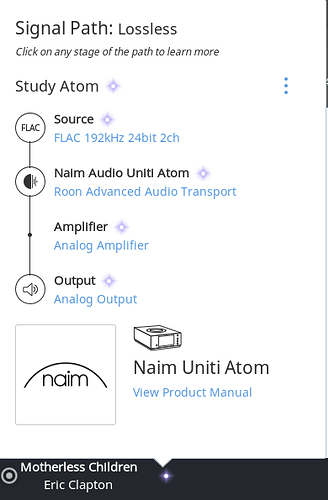 I'm still exploring how MQA works from Tidal.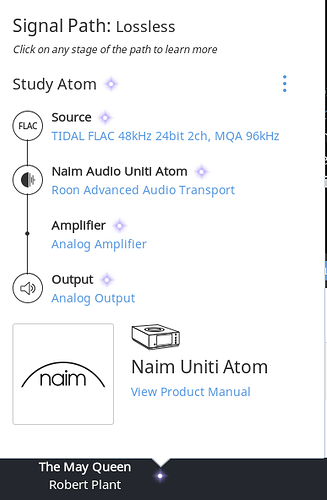 I recently upgraded my system from Sonicorbitor SE to a Atom
Huge improvement
Loving it now
Im thinking of getting an Atom for Roon and all my other audio stuff, but as it uses an RF remote control I am having some reservations. Does it do IR at all? I ask as it would be added into my current AV system to take control of the front two speakers to improve music listening and the AV Amp can look after the surrounds. All my current kit is controlled by harmony hub and remote so having to have a sepearte remote for just this would make my setup a lot more complicated, especially for the rest of the family. If the remote is purely RF is it bluetooth as this I guess with some help from Logotech and Naim could then be controlled by the Harmony.I am waiting for my account on Naims forum to be approved so will ask there was just wondering if anybody here might now.
It is not very often that I come across a piece of software that makes me go wow! The Atom on its own is a fantastic piece of kit. I have had a break of about 10 years of spending money on high-end hi-fi kit, the Atom was a complete impulse buy after hearing it at my local dealer.
When I read about Roon I did not quite get it until I downloaded it, the Roon Ready integration is fantastic, the multiroom capabilities and device support is an exercise in fantastic design and simplicity. Roon and the Atom are more than the sum of their parts, an inspired marriage!
I don't know if your question was answered but unlike Roon the Naim forum is not a support forum.
Email support@naimaudio.com to get the most informed response.
.sjb
It wasn't but I found out the remote uses ZigBee not Bluetooth so its on its own unless they work with Naim to add support over ZigBee.
Well I bought one of these yesterday. It sounds amazing and Roon just worked effortlessly. Shame their own apps garbage and I can't get Chromecast to work but everything else does.
Am I seeing things or have prices in Australia skyrocketed recently? A product worth $3100 yesterday is not worth $4000 today (unless the arse has fallen out of the national currency). Crossing the Atom off my list.
Its pricey, but your getting a very good amp, dac and streamer in one that supports Spotify, Tidal, Chromecast, Airplay, Upnp, Internet radio and Roon in one neat,tidy and great sounding package, I don't think there is anything else on the market that gets near it.for quality or does all it does . Bluesound Powernode covers a lot but lacks Chromecast and its not got the same audio pedigree, I am very happy with mine and has helped me consolidate my kit. Oh and I got it at the orginal Uk list price of 1750 not the latest 1999.
@BenCrosby When Roon is used with the Atom can you use the Atom's screen to control Roon? Do you see Album art, etc? Can you control the volume with the Digital control on the top of the unit? And can you see or control the visualizer? If possible, would you share a screenshot of the Atom running while controlled by Roon?
Thanks!
When Roon is used with the Atom you can control the volume using the Roon app, the Naim remote control, the control disc on the top of the unit or the volume control bar on the Naim app.
Album art appears on the display of the Atom.
The start/stop button on the front of the Atom functions.
It's all pretty seamless.
Do the NAIM devices have a audio visualizer?