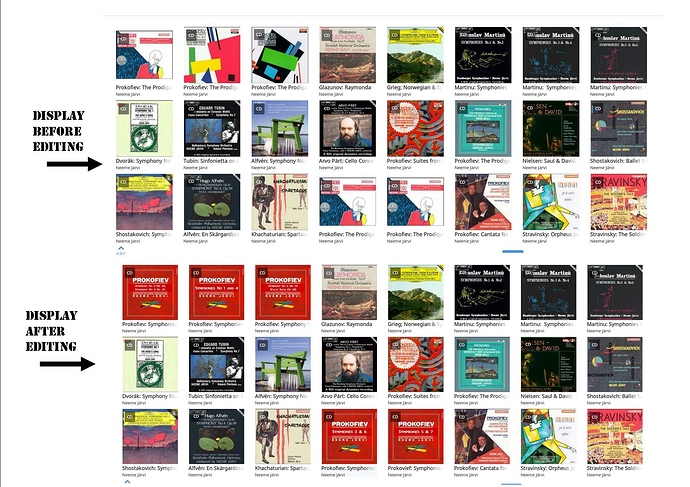 The above screenshots illustrate 2 things-
The mess Roon makes about album headers when a merged set is broken up
How cover display can be improved to make finding albums easier
In my initial enthusiasm with Roon I merged far too many albums although I suspect the Prokofiev symphony set came through as a merged set to start with on Roon. Regardless, when broken up, the covers are usually correct but the album headers are frequently wrong. In this case you can see every one of the Prokofiev Symphony albums was wrongly labelled as "Prokofiev: The Prodigal Son".
So I set about editing both the album header and cover for each of the 5 files. All went reasonably well until I struck an oddity. Roon had two albums classified as being of Symphonies 3 & 4 yet the track times were obviously different in each album so it was not a duplicate. Checking on the net it was soon clear the second album (the one in red bottom right) was in fact Symphonies 5 & 7. Edit -> Identify album did not immediately solve the issue until each track was laboriously scrolled down to match up with tracks from the complete set on the left. Usually Roon does this automatically but did not in this case as it seemed fixated on the albums matching up as Symphonies 3 & 4 despite the track times being mismatching. Initially Roon did not like what I did but reconsidered on a second attempt.
Now I'm unclear how all this works with Roon. It might be that now I've established with Roon exactly what that Symphony 5 & 7 is, future searches by others will not strike the problem I did. In other words, we are collectively improving the Roon database. Is this correct? I hope so.
To change cover display on all albums would be an impossible and of course unecessary task but I find it helpful, particularly with a big set. A good example is the set of Dorati Haydn Symphonies. If collated, as they usually would be, it is far from obvious where any particular symphony is. So I've broken the set up and labelled each cover as this screen shot shows: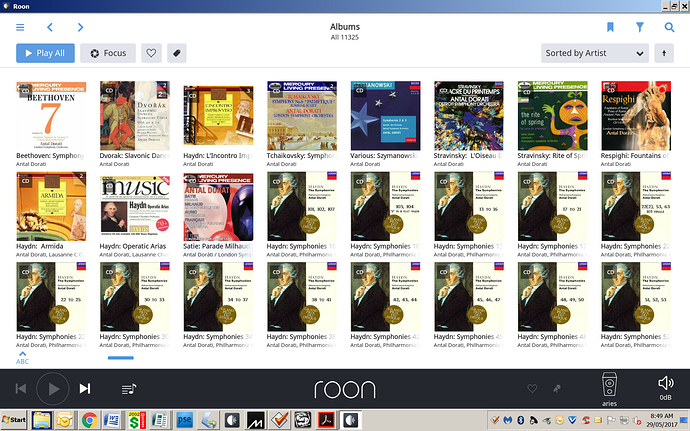 The wording under the cover is not informative but showing which symphonies each album has on the cover makes any required symphony easy to find.
Yes it is laborious and time confusing and something I only have time to do because I'm retired.