Hi, I've set up a RPi4b end point using RoPieeeXL. I currently have a USB Headphone DAC connected to the Pi (Optoma uDAC3).
The DAC works perfectly when connected via USB to my Macbook Pro.
The DAC shows up in Roon as both an Airplay and Roon endpoint, so all good there.
It also shows up in Spotify and Airplay on my iOS / iPadOS devices.
When I play a track using Roon I am getting no audio from the DAC. The volume in Roon says "Volume control is fixed". I have changed this within Roon to all the available options (Fixed, DSP, Device) and I get the same outcome, track is playing but no audio. Sometimes it starts to skip through the tracks then just stops).
In RoPieee I have Audio USB selected. Also under Volume control in UPnP/DLNA and Shairport-Sync I have Software selected.
Would really like to use RPi as Airplay and Roon endpoint to save some cash on buying Roon Ready devices.
I tried Volumio too and that gave me the same result.
Hope there is something I can try (without buying a new DAC if possible). I have tried to connect the RCA out from the DAC into an amp, same thing, and also into a pair of active speakers, again same result: Roon/Spotify all show like they are playing the track but I get no sound.
The only way I can get audio is when using Volumio and selecting the headphone out of the RPi then plugging my headphones into that which defeats the purpose of having the DAC!
I have tried the Force Volume setting in the RoPieee interface and that did nothing.
Re-started my Roon core, RPi4, tried using wired ethernet and wifi, re-flashed, all give me the same result. No sound.
Where am I going wrong? Is it because the DAC is USB powered and is not getting enough power from the RPi? I'm using the official RPi4 power supply. If that is the case then clearly my use case is not supported which would be a bummer.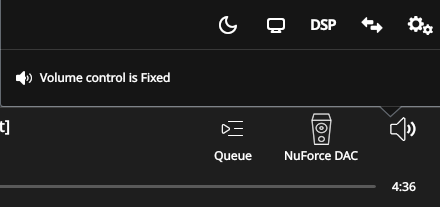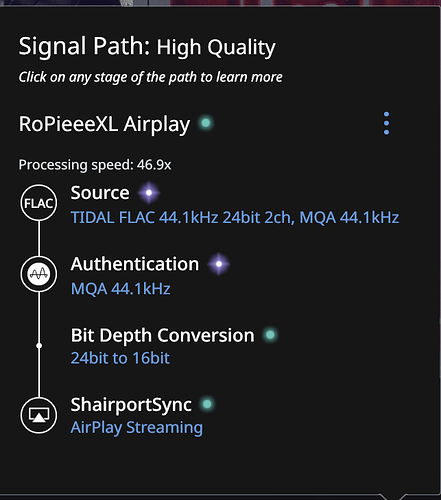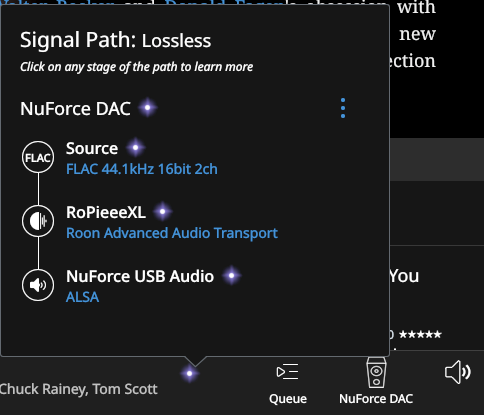 EDIT: I tried to connect my DragonFly Red to the USB of the RPi and magically I have audio! Did not need to change any settings. Audio works via spotify and airplay so all works as expected (apart from not being able to group Airplay speakers together, but can group Roon devices together).
So why is the Optoma DAC not playing nice with Roon/RoPieeeXL unless it is connected via a laptop/desktop? See this screenshot of it working when connected to my macbook pro.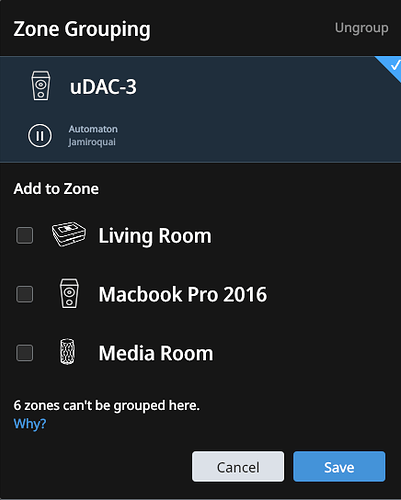 Would appreciate any assistance. Thanks