It takes time due to the way Tidal does the metadata batching. One to two days normally.
It's there now if you go to her artist page (or the TIDAL section). It's not indexed for search yet though.
On Tidal - yes
On Roon - no.
Hi Grzegorz, I don't quite understand what TIDAL has done. It has two albums (both Masters), but we only know about this one:
https://listen.tidal.com/album/131324616
Also, here's the album in a UK account. I've checked the streaming rights and they are valid worldwide.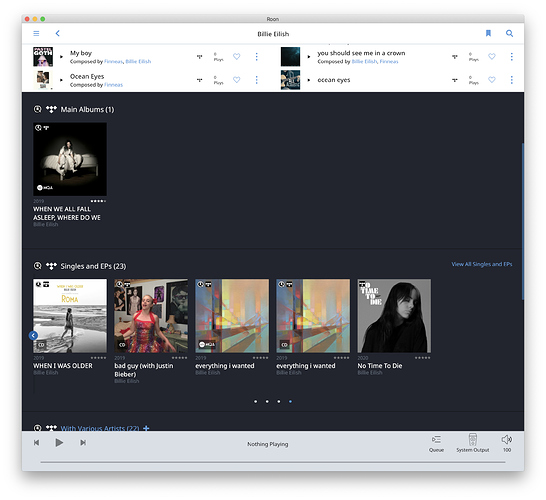 Yes, right now is visible.
I see also in EP's BE.
But wasn't all day.
No, it was added just before I made my first post in this thread announcing it was now available.
We understand that it can be frustrating that Roon does not reflect new streaming service content immediately, but the rich interlinked Roon experience would not be possible without deep integration of metadata from our providers; and this requires up-front data dumps from them rather than using their APIs. There is a necessary period of time – from receiving the metadata to releasing it – during which a complex metadata build process runs.
We have reduced the lag considerably in the last year or so and continue to work both internally and with our metadata providers to reduce the lag further.
Hello Joel again!


Thank you for full explanation. Funny, that when EP wasn't available, my colleague wrote me, that he had EP in Roon. So, he will not be my best friend, I hate liars.
To be honest, I thought, that Roon transfer data from Tidal immediately, when I saw difference between Roon and Tidal, I was annoyed. After you explanation I can accept small delay, in fact, there isn't problem with one day.