Have not checked mine this morning but will when back home.
Only one release dated today. However, albums increased from 45 to 67. Singles from 3 to 10.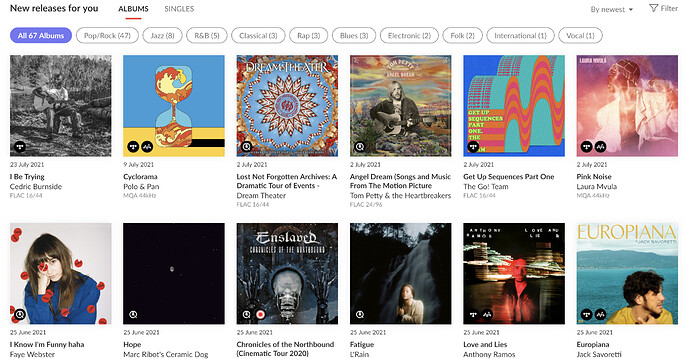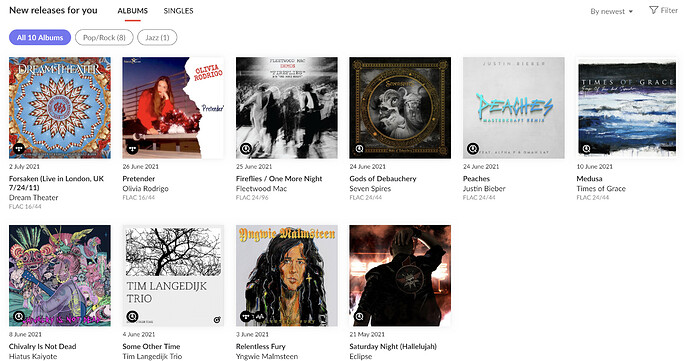 Disappointed to see support have yet to join this conversation.
Would be good to understand what they mean by relevance. Relevance to what exactly. If I set newest it's got stuff from last week but a lot I would not go near.
@danny or @kevin Could one of you two gents please shed some light on this feature? How it's meant to work and the difference between newest and relevance? Cheers.
Eh, not quite. We'll never be in full lockstep with TIDAL or Qobuz APIs and you shouldn't expect an update to NRFY on Fridays. For a deeper explanation about why that is, check out Brian's post here.
Not much more I can add than what it says on the tin. Newest = "show me new releases, sorted by date". Relevance = "show me new releases, sorted by what I might like the most."
Thanks Kevin. I still don't believe this works as it would and do understand Roon and a streaming service's new releases will not instantly sync. I do not expect magic

I have two (active) streaming services connected to Roon and for today, only had 1 new release added from Tidal. Zero from Qobuz.
The other releases are from last Friday and a total number of 4 (2 Qobuz and 2 Tidal).
This can't be the way NRFY works, right?
I think you're expecting magic.

Again, you shouldn't expect new releases on Friday. You'll likely see NRFY update over the weekend. But if there's nothing Valence thinks is new for you, then you might not.
What other albums from July 2 were you hoping to see?
I can guarantee you no magic is expected and I am happy to give it a couple days to update. However, it's been one week since July 2nd and I still only have only 4 releases from that Friday.
Surely after 7 days, lots of new releases between two active streaming services I should see more? Not to mention the singles section which as you can see from my screenshot above is very poor.
If the NRFY are powered by Valence, then Valence works poorly in my opinion. Out of all the releases from that day, two streaming services, it added 4, 3 out of which are artists to which I do not even listen to

Jim,
Nothing time critical and like I said, I do not expect magic and just want to understand how this feature works.
If I get new releases after a month, they're not new are they now?
Hi Raz, my experience with this feature is similar as yours, and I suspect that the confusing point is that NRFY will show new releases for you, not all new releases. Roon will show us in this section what Valence seems to think is desirable for us. And truth is I every week discover many interesting new releases on the 'What are we Listening' thread which never show up in the NRFY section.
My conclusion is that Valence (thankfully??) doesn't know me well enough.
Well I give up then and will check new releases on the two services individually.
Hopefully in time Valence will get to know me better

Well I do. To each his own

In my very humble opinion Roon is aiming too far or too high with Valence, and on the way kills the enjoyment of browsing through album covers. Yes, I enjoy looking through the listings of newly released albums of genres I am interested in, and I then make up my mind about which of these new albums to sample. This for me is a similar joyful experience as in the old days browsing through the boxes and shelves full of LP's and CD's in a brick-and-mortar record shop.
I would vastly prefer to be able to check some genres in Roon and then in due time be presented with all new releases available on Tidal/Qobuz. Don't need no cloud intelligence to help me deciding what is good for me.
Thanks Andreas and I appreciate your opinion.
This I very much doubt.
For me its not working as it should at any time. It's just a wasted feature. I think maybe once it picked up one album I missed in my manual trawling at some point but it was not over the weekend, for the whole it just too little too late. If the data is there at after 12.00 am on Release day which it generally is when I check Qobuz in Roon then why does it take 3 more days or generally longer to process this? I don't remember seeing anything in the same week at all maybe because I have already added them. I've not added anything from this week's releases so let's see if it comes up with anything at all over the next few days. If it does it will be funny as nothing at all has made me listen to them.
Neither do I what has that got to do with this feature at all. It's about finding new music , which for us it doesn't do a very good job of doing.
"I don't remember seeing anything in the same week at all maybe because I have already added them." - Never thought of this to be honest and I would be curious if this has an impact.
I always check the releases on my Tidal and Qobuz apps individually and then add anything I fancy from there and sync Roon. Started doing it this way when I realised NRFY does not really work for me.
I tried not adding before though it didn't change. Ill try again, but impatience will get the better of me…I like to hear new music when it comes out, its a ritual for me and not one i will change. New is new as in this week not last week's next week.
I know what you mean Simon.