Core Machine (Operating system/System info/Roon build number)
Nucleus+
Network Details (Including networking gear model/manufacturer and if on WiFi/Ethernet)
QNAP TS-251 on ethernet
Audio Devices (Specify what device you're using and its connection type - USB/HDMI/etc.)
USB to Auralic Vega
Description Of Issue
I am setting up my Nucleus+for the first time. Previously I ran RoonServer off of my QNAP NAS. I made a backup on an external USB drive. I plugged this into the Nucleus+. I followed the Migration Guide. When it finished I got a screen about 'Authorizations'. I thought I understood it to mean to disconnect my NAS, which I did.
Then Roon opened up and I had no library. I looked at my watched folder and it showed my NAS as unavailable. When I click 'Edit' then 'Browse' it doesn't allow me to select my NAS.
How do I restore my library that will stay (for now) on my NAS?
Here's a view of my storage setup: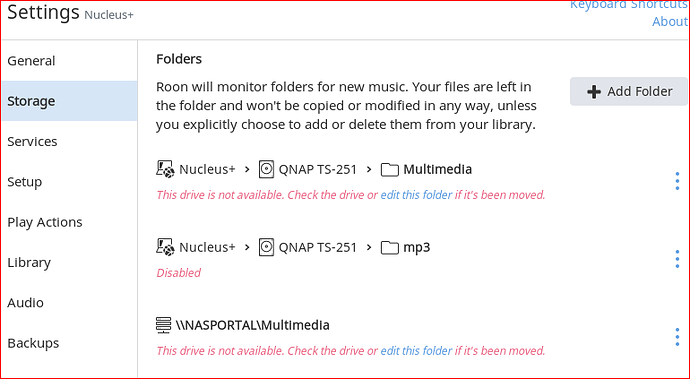 And if I try and edit (then browse) the location to fix it: