Its: * 1 year Roon subscription included
I know they've expressed their opinions when they raised the price, but any evidence of them removing it in October? Or were you just pointing out it doesn't jive with what they've said in the past?
I think the OP is referring to Moon Audio. I got their e-mail today offering that Nucleus deal.
Read what I wrote. It's actually quite clear. "It's more likely" means I am speculating…I am speculating that, based on Roon's previous statements, Roon is more likely to eliminate lifetime subscriptions than offering a Nucleus with a discounted lifetime subscription.
Roon's contract with companies like Moon Audio allowing them to offer lifetime subscriptions with their hardware is the only reason lifetime subscriptions still exist.
They are bundling in a year, not a lifetime.
We are actually debating killing the lifetime before the end of the year, or we may have another price increase. It's hard to give up "junk food"
Now I think that makes sense on Roon's behalf from a business point of view. Why not include a yearly 'free' subscription with the purchase of a Nucleus. Roon looses nothing from a user who would not have been a subscriber otherwise, enticed into the ecosystem, along with the purchase of a Nucleus.
Now that a Nucleus is purchased I would assume that after the free year there is a very strong likelihood that user will renew and likely years beyond. Not to mention there is some profit on sales of Nuclei.
Good job Roon.

Edit:
The one thing I would like to add is that those so-called deals should not be country specific. As the price of Roon doesn't change per country, so too should their special deals be universal.
I've always thought that lifetime makes a certain amount of sense for Roon Nucleus/Nucleus+ owners, but not really for the rest of us. I'm quite happy to pay $10/month to support Roon's operations and evolution.
Just out of curiosity, why do you think this?
Well, Nucleus+ is a closed system. It becomes a $2.5k doorstop without a Roon subscription. Sure, one could tear it apart and install some other O/S if they decided that Roon was not for them, but that other O/S would lack the thermal management that the customized Roon OS includes to support optimal operation in the fanless chassis. There are many vastly more performant computers available for less than half that price. Better to think of Nucleus, permanently, as a "Roon Appliance"
Nucleus represents a long-term investment specifically into the Roon ecosystem, so a lifetime subscription seems to make sense for Nucleus owners, as they are quite reasonably in it for the long haul. If I were to buy a Nucleus today, I'd seriously consider buying a lifetime subscription (if still available) at the same time. In the unlikely event that Roon Labs decides to continue the lifetime option, IMHO, it should be reserved exclusively for Nucleus owners.

As much as I love Roon, I was not using it six years ago, and I'll be surprised if I'm still using it five years from now. I do hope so, but things move fast in the digital and streaming world, so I'm not prepared to make a long-term commitment to a single technology like Roon. However, I am quite happy to send Roon Labs my $119.88 each year that they continue to deliver excellent value. So far, they have done so without fail.
I think you've missed something that is on the Roon Labs Nucleus page…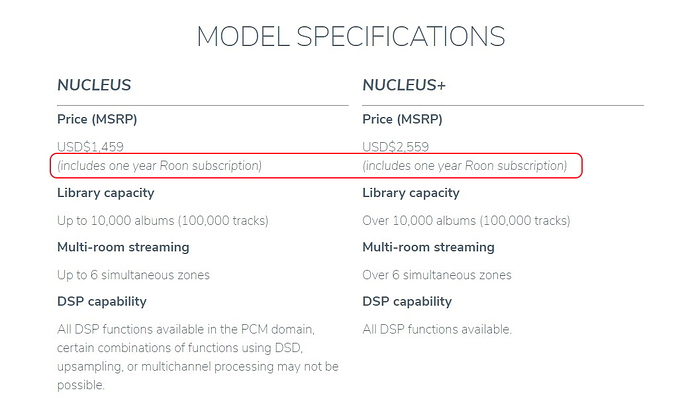 Hi Geoff,
I've not actually missed anything & actually backs up what I was saying that these offers are not universal - for reasons unknown. And I believe that as the cost is a one size fits all regardless of location; so too should the offers!
I don't know where you have copied that text from, but the pricing seems all at odds with what Roon Labs do.
As far as I know, this one-year free subscription to Roon with the purchase of a Nucleus/Nucleus+ should be universal now. I believe that it was introduced with the launch of the new Roon Labs website. @danny, @mike - what is the situation, please?
That's what I see at the first two stores that sell the Nucleus out here - no mention of any form of an extended trial.
Sorry Geoff - as per my profile page - Australia. Notwithstanding, I thought you knew, as I do that you live somewhere in The Netherlands.
Cheers.
@Nostro, can you share where you saw that text you pasted above?
Hi @danny,
Sure…they were the top 2 searches!
I have also just pulled up the next 6 - not one mentions any kind of free subscription, although not all clearly state as per above that a Roon subscription is required. That must be in the fine print (or no print at all).
Roon Partners
Roon Nucleus Music Server is designed to work with products from the manufacturers you trust. Over 60 partner brands now work with Roon and the list is growing every day.
Gotta love the marketing - 'the list is growing every day'. So I'd assume then that a minimum of 1 per day (more on better days), we should see many more listed companies than just the 60 partner brands? (All of which no doubt would be Roon certified).
I might have to call that store for a verified list of the 60 companies they refer to in the advertising blurb & et these facts that they print.
Edit:
And can you comment @danny whether any such offers are universal across all regions as per your pricing policy, or do you discriminate against some countries? Thank you.


Krispy is posting bad information… they can't sell you those licenses at those prices, especially in Australian dollars! My guess is those are Australian Dollar prices for our old license pricing, and they haven't updated their site in a long time.
I've let our sales team know to contact our Australian distributor to let them know about Krispy so they can get that fixed up.
The 1-year subscription that's included is pretty new… these dealers in Australia have old webpages – especially Krispy, who has license pricing from pre-November 2019! If a user was to buy from them, they'd be sorely disappointed.
60! wow, these guys haven't updated their site in ages…
here is the list: https://roonlabs.com/partners
We do not discriminate… we don't sell to dealers outside the United States. We sell to distributors in those countries, and they have a relationship with the dealers. Older Nucleus shipments came without licenses. New ones do. There is a way for a distributor to upgrade the package, but given that this is a new offering, it takes time to get uniformity across the world.
Thanks @danny, I can appreciate it must be awkward dealing with distributors from all over the world.
The list of Roon partners was neither here nor there, more so the wording about new ones being added daily. We all know that couldn't be possible. That doesn't give a good impression.
My only interest in this thread was whether such offers were universal & you have answered that now.
Hey Geoff - does this all make sense to you now? Seems most retailers out here have not updated their web pages and perhaps the local distributor has not told them either of any current offer.
I trust this is clearer for you now. Thanks.