Content you're reporting an issue with
Orchestre National De Jazz De Montréal / Christine Jensen have an album, Under the Influence, with 5 major parts, labeled Part I thru Part V and each has a dedication, i. e. Part I is (For Kenny Wheeler). Three of these parts have two components (tracks) and the other two have just one. I have edited the metadata in MP3TAG to give all tracks a WORK: Part I (For Kenny Wheeler) and PART Starbright, for example. I have edited the Roon Metedata to use file data for Multi-part composition. And all is well and good for the three WORKs with two tracks, but not so good with the two WORKs with one component. The three display as expected, but the two only show the File name: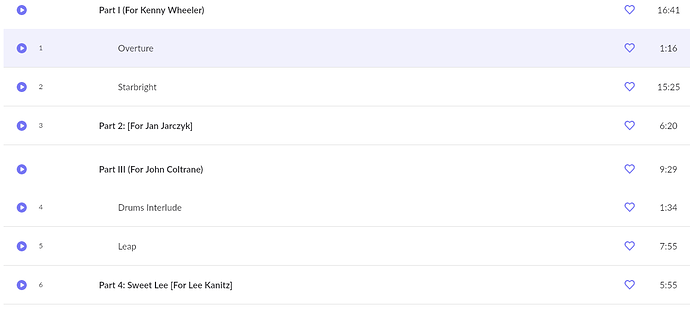 The track in Part 2 has a name (To Jan), but this doesn't show up in Roon.
Have you made any edits to this content in Roon?
I have changed the source for Multipart Composition to File. Other edits were made in MP3TAG.
Is this content from local files, TIDAL, or Qobuz?
This is a local file

Screenshot of import settings
Description of the issue
Is this to be expected?