Not tinkering per se – but today I redid my setup with the aim to maximise the ease of use (for me and my family), with the least amount of boxes possible. The mail goal was to get everything connected and controllable with one remote, preferably with room correction for all inputs. I must say, I'm rather pleased with the outcome.

I employ an all-digital setup, consisting of the following:
A pair of Meridian DSP5200 speakers (2 x SPDIF inputs)
A MiniDSP DDRC-22D Dirac Room Correction box
A Raspberry Pi / Hifiberry Digi+ running RoonBridge
A Chromecast for playing Spotify
A digital cable box
A DVD/BlueRay player
An Apple TV
In order to have one control to rule them all, I got myself a Logitech Harmony Companion set: a smart hub with a simple remote for daily duties and a Phone app for configuration and digging into the dirty details. With the Logitech, it's easy to define custom actions for powering on/off the correct hardware, as well as choosing the right inputs, etc. for differente activities.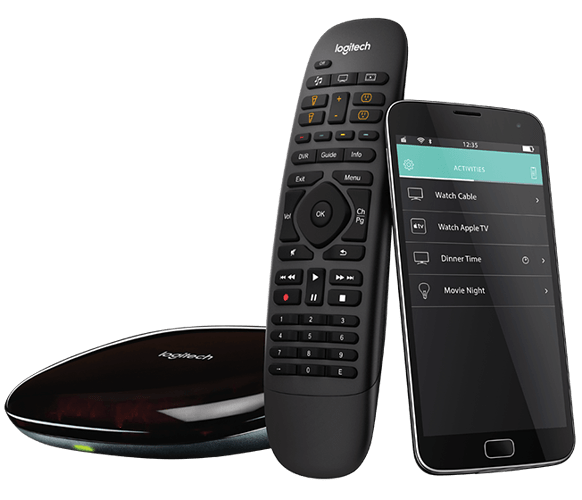 After a little, well eh… tinkering, I ended up with the following:
Raspberry Pi / Digi+ connected to MiniDSP by SPDIF coaxial
Chromecast connected to MiniDSP by SPDIF optical
Connected to TV by HDMI:

Cable box
DVD/BlueRay player
Apple TV

TV connected to MiniDSP by SPDIF optical > SPDIF coaxial > AES EBU conversion (a little weird, but it works – and it allows me to use all three inputs of the MiniDSP)
MiniDSP DDRC-22D connected to DSP5200 by SPDIF coaxial
The main menu on the Logitech now looks like this (all six activities are mapped to the simple Logitech remote as well):
One click, and this sweet little system chooses the correct inputs on the DSP5200's, MiniDSP and TV for each activity, as well as powering on and off the equipment needed. The remote auto-adapts to the different scenarios. And the best of all: all sources are room corrected.
All this for €/$150 and a few cables. I'm quite impressed – and more importantly: so is my wife.