Hi everyone,
I am a non-IT guy who enjoys good music and recently have acquired some new equipment and subscriptions (Sonore opticalRENDU, Uptone etherREGEN, Roon, Qobuz) to further my enjoyment of this hobby.
The current network system is rather basic, a default Huawei HS8145V5 smart gateway from the internet service provider (am in Shanghai) and a 2013 Apple AirPort Extreme serving as a wireless router. The reason I added the AirPort Extreme is because the Huawei HS8145V5 has a limit of 10 connections (home uses some 8 IoT, controlling heating, lighting, video camera, etc).
Below is an image of the home network and audio set up for everyone's reference. The house is a basic 70sqm 1BR single storey apartment with the network and audio system placed in the living room.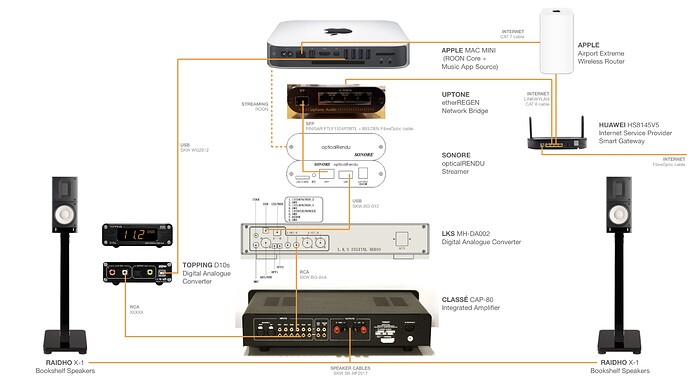 Recently, due to the experience of intermittent Qobuz playback via Roon, I realised that there could be a lack of bandwidth in this set up, thus have me thinking of planning an upgrade.
One of the initial consideration is to replace the Apple AirPort Extreme. Due to my lack of knowledge in this specialised discipline, I am not sure if this is the best solution in long term. There are several questions in my head, eg, can I swap away the Huawei HS8145V5 with a better piece of equipment without affecting the performance (probably i should consult someone within China)? what are the better wireless router that will give me the best speed and bandwidth? Will adding a switch after the Huawei equipment help? how I should plan my upgrade to optimise the sonic performance as well as basic usability of having a dedicated VPN within the network (downloading and uploading of files and view contents from overseas servers)? etc
Anyone input is greatly appreciated. Thank you.
symon