Hello @Bernhard_Kammer , Deutschlandfunk is already there, as is Deutschlandfunk Kultur and Deutschlandfunk Nova.
Can you not see them? Try using the magnifying glass to search for them.
I think the problem is that there are over 300 German radio stations in the database, and not all are displayed in the German category by default (there is a limit of 200(?) in the Roon display).
Don't use the filter, use the magnifying glass…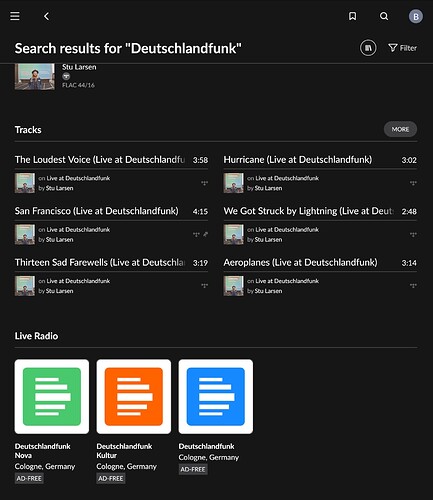 Oh sorry, read your post too fast and yes, I did use the filter…
Now I see the problem (clearly on my side)…
Many thanks for the solution and the fast replies!
Excellent. Once you've found them, add them to your my live radio so you don't have to search again.
This topic was automatically closed 36 hours after the last reply. New replies are no longer allowed.