This may be down to incorrect metadata in one of the albums in your library, because Roon certainly does know that there are two Nancy Wilsons. Perhaps you could give an example of an album where the wrong Nancy Wilson is identified?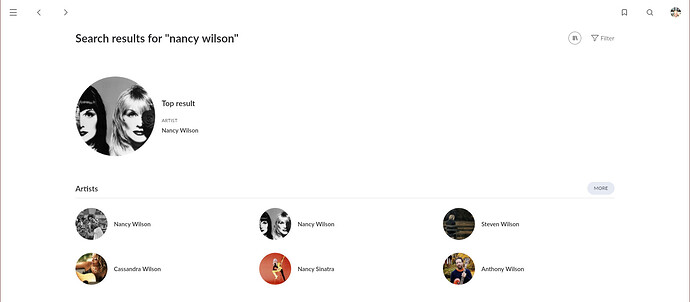 I'm only trying to help…

I'm as interested in getting to the root of the issue as you perhaps are.
This is an issue with Tidal's classification. I had to search Nancy Wilson (Jazz) to find Nancy Wilson (Heart) new album.
I discovered this on the Tidal app on my phone - outside of Roon.
Always Roon fault…





TIDAL may well have things confused, but the problem is actually this metadata from TiVo:
We've asked TiVo to correct.
Hi @Emile_Lemmer. This is now fixed; please allow up to a week for the updated metadata to be pulled into your library (if it hasn't already).
This topic was automatically closed 36 hours after the last reply. New replies are no longer allowed.