Hi all,
I'll be going to places with little/no internet connection for Christmas/New Years.
I'd like to make sure that my understanding are correct regarding Qobuz-room integration.
When I add albums/tracks to roon's library, the tracks will be copied to the core and I don't have to have internet connection to play those tracks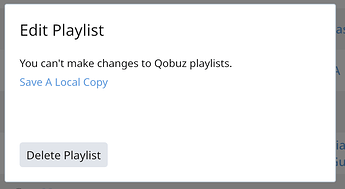 Playlists that I have created on the Qobuz side will be available in roon, and I need to save them to a local copy.
However, for the saved local playlist, i'm still seeing the Qobuz logo on the tracks. does this mean that the tracks will still be streamed online or are they also copied locally?

Thanks