2 L material is MQA via Qobuz, that's the labels choice. As I understand things.
I just hope Qobuz doesn't start with that MQA shit on a wider scale

G1, very nice

Still a bit strange i think? Qobuz does display some peculiar sample rates in the album view and this one is displayed as 24/192. But when played back Roon detects the stream as 16/44.1 MQA, authenticated at 352.8KHz.
I dont have an MQA decoder to check if this is seems to unfold to a 352Khz PCM stream? Someone with Qobuz and an MQA DAC?
Chris is correct. Qobuz does not support MQA but if a label only supplies MQA then they have no choice but to stream MQA.
MQA material on Qobuz also authenticates and decodes fully on a Lumin.
You love promoting Lumin don't you? #teamauralic

Of course he does, it's a great product that does a lot of things well and fits very nicely into the Rooniverse!

Thanks for your input guys! Didn't know that 2L was in league with the dev… …elopers of MQA!

For what it's worth, i'd prefer to see standard FLAC HighRez from Qobuz, as i prefer the sound of those formats generally.
Here is a note by Sebastien from Qobuz in response to my query. I don't think this will be a growing problem.
"Thanks for your feedback. We are aware of an issue with the label 2L delivering files in MQA-CD format. This is their standard resolution they send out to all major services in a regular 16/44 WAV file.
This is something we have been working with them internally to change. That is all I can tell you at this time as I am not authorized to discuss internal matters.
Does this help? Don't hesitate to let us know if you run into any further issues.
Regards,
Sébastien from Qobuz"
Makes sense, Qobuz delivering MQA content in their 'Studio' hi-res lossless offering ($24.99/month) is definitely a bad look, especially when Tidal is throwing in MQA for free w/ their 16/44.1 'HiFi' ($19.99) tier. Qobuz does have a 16/44.1 tier available at the same price, but I think it is a good move to offer a proper lossless Red Book tier sans MQA. While 'Versions' in Roon helps, the myriad versions of any given album in Tidal is anything but elegant.
Want to check recent stuff from Nonesuch (Laurie Anderson / Chronos Quartet's Landfall comes to mind) ?
I don't find Landfall in MQA, but do find 2L recordings show MQA Authentication and MQA Core Decoder between Source and my Audio Transport (Zenith).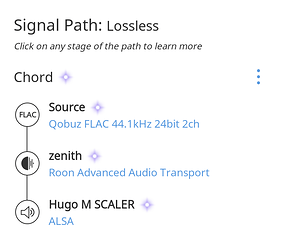 BTW, Landfall is a powerful Kronos Quartet/Laurie Anderson performance.
Qobuz Is a non-starter for me since it doesn't support MQA
Tidal is a non-starter for me because it DOES MQA.
Besides, Qobuz sounds better than Tidal IMHO

Exactly, I moved from Tidal to Qobuz to avoid non-lossless MQA altogether.
Good morning, I had in mind to swap to Qobuz because of Neil Youngs swap to qobuz instead of tidal. But the love is not as deep to swap from tidal. No more NY streaming. The app from Qobuz is not as good as the tidal app, sound is not a question, to be honest: In my setup the tidal sound seems to be always a tick better then Qobuz.
So no trouble with MQA on Qobuz here


Caution: This is my opinion and is not to influsence some other people
Cheers Armin
Indeed - everyone knows MQA is NOT lossless…
v
Tidal Is a non-starter for me since it's trying to push MQA
v