Has been looking frail for a while but still a bit of a shock.
The end of an era. I'm not particularly a Royalist, but I have the utmost respect for QE2 for devoting her entire life to public service here in the UK. A true legend, and she will be missed.
Similar feelings, not a fan of the monarchy but she's earned my respect over the years.
It will be a hard act to follow her as she has been a figure to look up to and respected.
Please keep this thread respectful. Irrespective of individual views, someone has passed, and this thread should be about a life remembered, not views about the British monarchy. Thanks for your understanding.
This topic is temporarily closed for at least 4 hours due to a large number of community flags.
Well this little tirade generated enough flags for the system to automatically close it, this was NOT the actions of any moderator!
Let's just leave it like this as obviously it was toxic to some.
Thank you.
This topic was automatically opened after 4 hours.
I'm glad that this thread has reopened. I have the great privilege in enacting a tiny part of Operation London Bridge, the co-ordinated national response (within the UK) to the death of Her Majesty the Queen. Immediately upon hearing the news I busied myself with emails and phone calls to ensure that five rural communities in Devon will have access to books of condolence, that churches will have commemorative services and that primary schools will have spaces for our children to mark this momentous occasion.
Whilst sitting with my family, during a brief pause in the frenzied activities, I thought I'd check to see if anybody had started a condolence thread. I was pleased to see that they had, but so saddened to see that it had been automatically closed due to inappropriate content. I fully understand that the British Royal Family is not to everybody's liking, indeed I have my own misgivings. But this thread provides a little opportunity to pay our respects to a departed servant of the British people, a servant of the people of the Commonwealth and, I would suggest, a servant of the whole world. Let's keep things respectful, dignified and generous in spirit. Rest in peace Your Majesty.
King Charles III will have some very tough shoes to fill. I wish him all the best. Queen Elizabeth II certainly never complained in public and acted apolitical. Glad I bought some silver Britannias this year. The UK and its dominions bullion coinage will change with the new king. As an American, I don't fully understand the inner workings of the monarchy, but no doubt she served honorably and with great dignity.
The U.K. has gone through quite a turbulent 48 hours with both a new P.M., the loss of the queen , and a new king.
King Charles 3. has certainly had a great example to follow from his mother.
Even Apple has updated their homepage: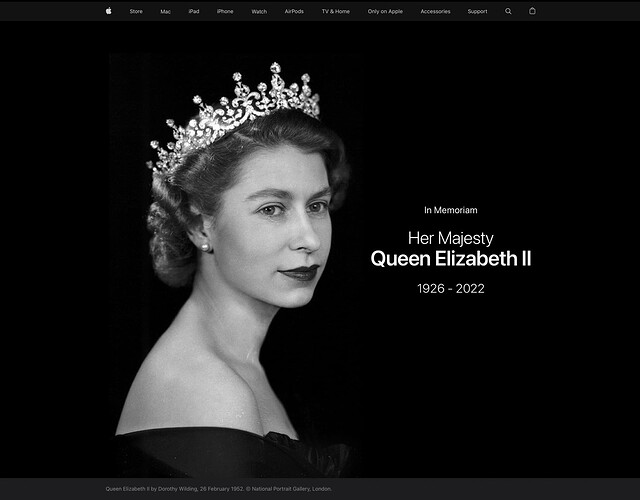 It was easy to think , on the face of it, of Elizabeth II as a privileged, detached and somewhat Austere figurehead especially as she got older and was naturally less able to vocalise in her public engagements with younger people. Perhaps at least, But she had to do her job until the end. We don't! Also behind it was initially a shy girl who gained public confidence in her role. Mischievous and with a sense of humour, she didn't get credited for. Obviously she filled her public duty extremely admirably, and there will be no real debate in the U.K. on monarchy but what I'm taking from her going, watching the tv so intently over last few days, is that when someone "constant" like this goes, there is something which you loose in the process. That's when you realise how important she was and the penny drops. I feel proud to be British at these times.
You should always feel proud to be British!
Even I, an Amerikan, feel a sense of nostalgia over her death. She's been an honorable part of the world's consciousness for so long.
However, there is this -
Will the UK be in a mourning period with continuous public events until the Queen is laid to rest?
The short answer - yes. Details can be found here.
In essence it is a time of public mourning (for Her Majesty's death) and public celebration (for Her Majesty's life). Alongside this it is a time of welcome and proclamation for our new King. His reign will be proclaimed in towns across the nation over the coming days.
From Wednesday onwards the focus will be firmly fixed on the movement towards the Queen's funeral. The transportation, on Wednesday, of her coffin from Buckingham Place to Westminster Hall is of particular significance and will be a moving occasion. The Queen will then lie in state until the day of her funeral. On that day (Monday 19th) she will be taken from Westminster Hall to Westminster Abbey. Her final resting place will be within St George's Chapel, Windsor