When I start radio from a compilation then the queue says it is playing songs by "various artists" rather than the performer. It happens in all cases I have tried and in all cases the performer of the individual tracks have been tagged. Here is an example. It is difficult for me to assess if this is just affecting the display or if it is effecting the construction of the radio queue as in general I have not had much success with radio.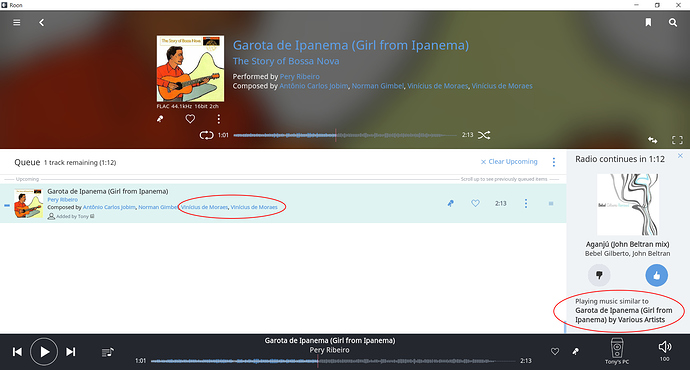 On the same display I have duplicates for the composer Vinícius de Moraes. When I go to the credits there is only one of him. Two copies come up when I filter in the composer view but I cannot merge them.

With pop/jazz/rock etc. multiple composer credits for songs are extremely common (unlike Classical). However, when I click on Antônio Carlos Jobim I am only getting his solo compositions not his much more numerous joint compositions. In fact I cannot really see a way of searching on joint compositions which is the overwhelming majority of popular compositions.
Hope support can take a closer look. Maybe there are other ideas.