Such a shame. He's someone I never managed to see live, despite liking a lot of his output.
Just read this on the internet, very sad indeed.
Rip Jeff!


Oh… RIP
Really bummed about this one. He will be remembered as one of the greats.
agreed - this one stings - Certainly one of rock's royalty

He was one of those ageless wonders that looked pretty much the same when you saw him over the years -
very sad…
Very sad news.
R.I.P. Jeff.
Thankyou Jeff for the beautiful melodic passages, wonderful tone and exquisite timing. Have been a fan since hearing Blow By Blow as a kid. A real loss.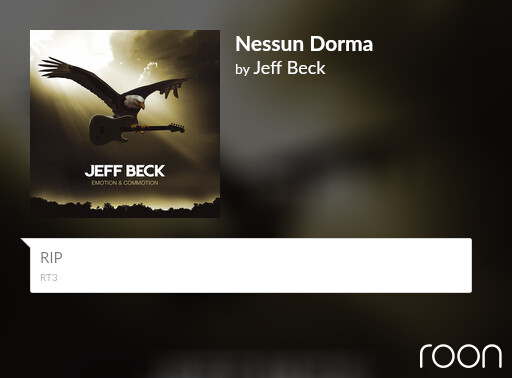 Such a unique style and sound. You are legend, Jeff.
Rest in peace.
One of my favorite test tracks is "Space for the Papa" from Jeff's album "Who Else!"
His competing passion was for the hotrods he built and was building. He replaced Jimmy Page and died on Page's 79th birthday…I believe. Interesting perspective is from people like Beato (etc) who talk about what an effortless and accomplished player. There is a video of his doing Santos and Johnny's "Sleep Walk" on YouTube. He was a musician's musician.
Allan Holdsworth and jeff Beck are my favourite guitar players.
Never heard them live. Fortunately their recordings will always stay with us.
Have been playing guitar for 40 years and he's always been my favorite. Such fury and beauty and style of his own. Am truly saddened by the loss, RIP God's Guitar Player - JB.
I can't even imagine how many times I've listened to the Jeff Beck Orange album. Definitely in the multiple thousands of times. Its still as fresh and enjoyable as the first time I heard it. Also songs like Jody or Beck's Bolero… never get tired of hearing them and always stop me in my tracks and demanding my full attention. Like Jimmy Hendrix it seems like whatever thought Jeff Beck was having he could translate into sound effortlessly. Truly sad news, will be greatly missed, but equally happy that his music will never die. RIP Jeff Beck and thank you for a lifetime of joyous music listening.
@Martin_Webster I agree sad last few weeks–forgotten by many also is RIP Ian Tyson of Ian&Sylvia entirely different genre but if anyone is interested there is an article on him also on the Guardian web page and also at Audiophilestyle AS in memoriums and general/music threads
RIP Jeff and Ian
Now playing on the Roon home page:

Beck Deluxe is a chronological career-spanning tribute to Jeff Beck, one of the most innovative, influential, and incandescent guitar players to explode from the '60s British Rock scene. Unlike many of his more famous peers, he eschewed musical complacency and honed a fiery reputation for pushing his instrument into ever-new sonic realms. Nothing was too musically advanced or adventurous for Beck. He fearlessly conquered blues-rock, psychedelia, hard rock, proto-metal, funk, fusion, jazz, easy listening, electronica, rockabilly… even opera and classical forms bowed to his skillful touch. In his hands, the electric guitar was elevated to expressive heights few would imagine, let alone attempt. Whether serving in a lead or, often uncredited, guest role Beck Deluxe showcases the flash and finesse that made Jeff Beck a guitar legend.