One of my favorites. RIP Tom. Thanks for the many years of music joy.
Saw him at this year's Summerfest in Milwaukee. He had it until the end.
Saw the Heartbreakers at Hyde Park earlier this year. It was a great show and Tom and his band were in top form. RIP Tom, and thank you for the wonderful memories. Your music has been with me since I was twelve and will remain with me till my turn comes.
RIP Tom, hopefully you'll get your wings now.
I don't think it's confirmed, with premature reports of his death. No brain activity and removed from life support is the latest.
I'll be quite happy if my sentiments are premature. RIP TP
Huge loss for the music industry and all fans of great music. We will keep playing loud Tom! RIP
That's kind of a big mistake.
CBS News has not had a very good day,
Tom Petty's death after cardiac arrest confirmed by manager
Manager Tony Dimitriades says Petty died on Monday night in Los Angeles after he suffered a cardiac arrest
So sad. One of my favorites. Saw him earlier this year in Nahville. RIP Tom.
I'm gutted. One of my all time favorites, and IMO one of the truly underrated songwriters of the last 50 years.
He was on my list of "favorite artists I need to see live" for two decades, and it's both gratifying and bittersweet that I finally ticked him off the list this past July at Forest Hills Stadium. He really sang his heart out, and I saw no indication he was slowing down. And man, you really get a sense of how deep his catalog goes when you hear it all back-to-back.
This picture's blurry but I happened to have my phone out, and snapped it just as the first chorus of "Free Fallin" came in. I'll never forget the goosebumps of that moment – it felt like half of New York had their hands in the air, yelling at the top of their lungs, "And I'm free!"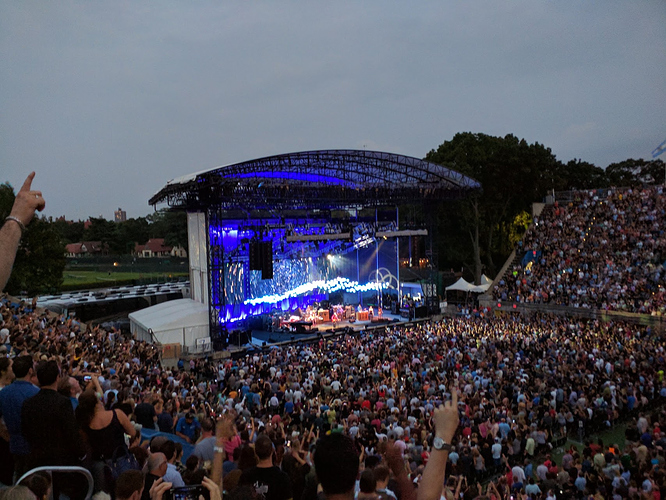 RIP Tom Petty. Thanks for everything.