So have moved my Roon Core from my Laptop (Win7) to running on a NUC with ROCK.
My Music Library is stored on a ReadyNAS Ultra 2+/Pro 2.
When Roon Server was on Windows any update to my Library, in additional files or changes to album artwork or metadata would be instantly picked up by Roon Core.
However with Roon Core on ROCK running on the NUC, the watched folders mechanism does not seem to work, in that to get the Library to reflect any updates, I have to manually request a Forced Scan, it does not automatically detect any changes.
No other settings in the Storage settings have been adjusted since migrating from Windows to ROCK.
I had this with Asset R5 running on a RaspberryPi under Raspbian accessing the Library on the NAS. In the end, they had to introduce a 'Forcibly Scan Library' time setting, which I have set at hourly with a check every 60 minutes.
Storage settings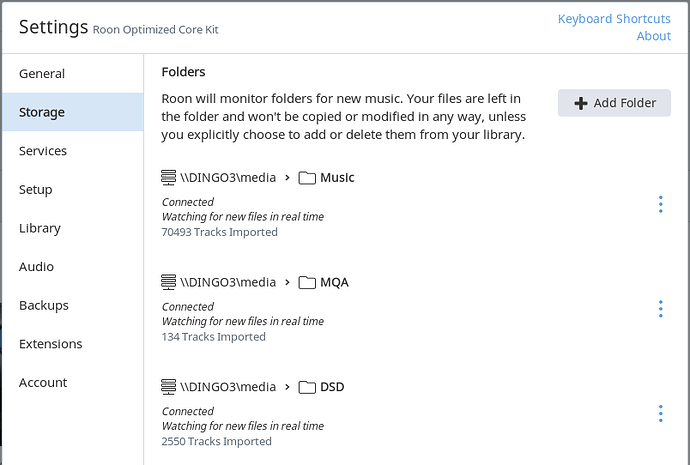 On the target ReadyNAS I have both CIFS and NFS enabled.


I use an NFS mount from the RaspberryPi to the NAS, as there was a speed and buffer advantage over CIFS on a Linux-to-Linux system.
How does ROCK make its mounts and its monitoring of resources on mounted drives - SMB and iNotify?
So, on the target ReadyNAS platform, /proc/sys/fs/inotify/max_user_watches is at 8192
Thanks, Simon.