Hello support team,
first of all: Congratulations to Roon version 1.6. A really big step in Roon development!
However, running Roon 1.6 app on Android 8.0.0/Samsung Galaxy S8 I discoverd two bugs using GERMAN language settings:
When using ENGLISH language settings everything is perfect. But when I switch to GERMAN I cannot see all menu items for the "History and "…" items" as in the English version. Look at these two screenshots to compare both displays: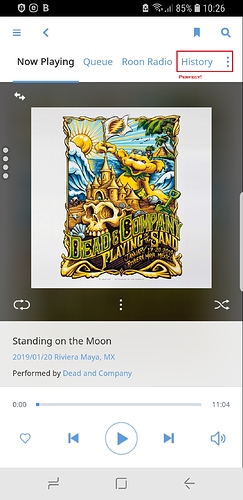 English version is perfect.
But the GERMAN version will cut the last two menu items (top right) and part of the text for "Roon Radio selection" is still in ENGLISH instead of being translated to GERMAN…