Hello guys I am new to roon since last September and since then I tried to get it to work. It was not that easy. I am a Mac user and I bought before an iMac eight core to Run a Big Library of Songs. I came from all the Ivana but there I was not so content although the performance was not so bad. But I had to tag everything right to have it being shown correct with the covers and different kind of tags. So after all it was too much work to get it to work and I decided to give Roman a chance. My friend Thomas told me about roon doing this whole tag thing automatically. And here I am. Since then last September I tried to get to work roon.
First of all I will show you my complete gear I'm using as equipment and the associated surrounding equipment. Some pictures included to.
As I live in Germany some words are written in German but I guess you can get the meaning.
Source im Schlafzimmer: iMac (Retina 5k, 27", 2019, 3,6GHz Octacore), 128 GB RAM/2 TB NVME/7,68 TB SSD, MacOS 10.15 an La Rosita Netzkabel mit Akiko Audio Tuningstick. Extern mehrere Raids.
—> Musik-Software:
Roon 1.8 Server mit 726.000 Titeln (ca. 34 TB), davon 620.000 lossless.
Voxengo MSED v3.0 PlugIn zur Mitten-/Seiten-Live-Encodierung.
HQPlayer 4 Desktop 4.7.2 upsampling auf 24bit/384 kHz
Steuerung über iPad Pro 2017 12,9" und Roon 1.8 Remote
Alternativ: Audirvana 3.5 mit Voxengo MSED v3.0 PlugIn und Audirvana Remote
Alternativ: iTunes über La Rosita Engine 2.1 auf iMac 27" 2011 für Streamer La Rosita Omega V3; Steuerung über iPad Pro 2017 12,9" und Apple Remote App
—> Musikübertragung via Devolo Magic LAN an
Fritzbox 7590 mit Beci RouterWizard/Soundbox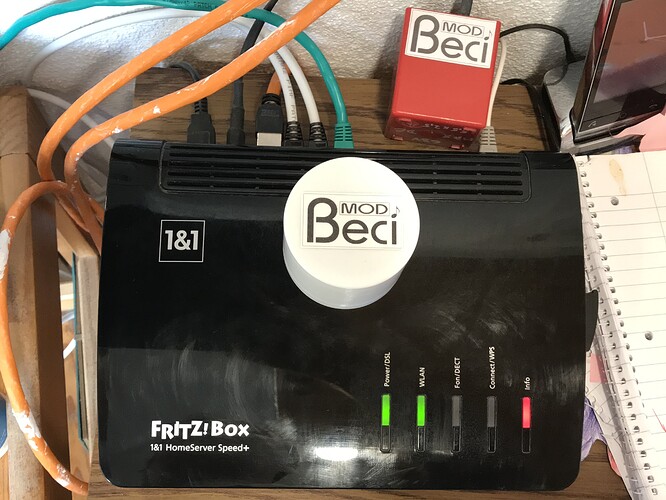 Netzteil Uptone Audio JS-2 an La Rosita Netzkabel; alles im Flur. ![image|666x500](upload://f5q9a6g8BDGxO56MQyiqiwa8UG2.jpeg) ---> Via Devolo Magic LAN weiter an La Rosita Gamma HD; Stromkabel Shunyata Research King Cobra V1i ---> Über 0815-Cinch-Kabel an Abacus/AudioVero AcourateClean Linetreiber mit Decodierung des M/S-Signals ---> Wyred4Sound STP-SE Level 2 Vorstufe Netzkabel Advanced Listening Audio Cable, danach mit A23 Y-Cinchkabel an ---> Spectron Musician III MK2 (V-Cap Upgrade, Super-Effect Bybee Purifiers, Premium Fuses Upgrade) als Fully Balanced Monoblocks (Netzkabel Advanced Listening Audio Cable 2) ---> Auditorium 23 Biwire-Lautprecherkabel ---> Lautsprecher B&W 801 SII mit interner Weichenmodifizierung LS stehen auf selbstgefertigten Edelstahlspikes und Subbase Echo LS ---> Analoge und digitale Cincheingänge abgeschlossen mit ACOUSTIC REVIVE RCA short pin SIP8Q/Audio Exklusiv Silentplugs XLR ---> HiFi-Rack Lignolab "Die Bank" auf Subbase Echo LS & 4 Subbase Ebony-Pucks ---> Ankopplung von Endstufen, Weichen & Rosita über Etalon Spikes ---> Abkopplung aller Kabel vom Granitboden durch Bänkchen hinter HiFi-Rack ruhend auf G-Flex-Schwingungsdämpfern ---> Stromversorgung über Vibex Powerblock an Netzzuleitung NBS Black Label III ---> Stromsäuberung über Akiko Audio Corelli Powerconditioner an La Rosita Netzkabel ---> Endstufen, Vorstufe, Streamer & Linetreiber über Vibex Powerblock an PLiXiR Elite BAC 1500 Power Conditioner ![image|666x500](upload://3dAuIDoRh9NfBLW4xcnxJxVAL5C.jpeg)
So here you have my hi-fi chain. After all I got roon server to run on an iMac 2019 eight core with 128GB of RAM. It has a quick Ssd, too and my intention was to get my big library run with much power and fast and much storage. Therefore I built a RAM-disk and routed the Roon database to the much faster RAM-disk.
So here's the result: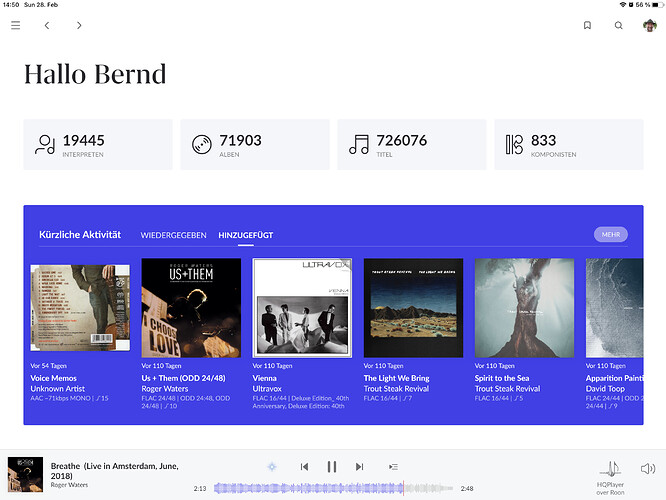 It's really fast with the iPad remote. Once or twice a day I have to start roon server again because it won't work somehow. But after some initial 5 to 10 minutes it will work flawlessly.
Everything only worked when I disabled my Qobuz account. Before everything was a mess and only music playing was not really possible uninterrupted for an hour.
So what are your library sizes and systems to manage it?
Bernd