Hello to all, I have a question that I would like some arise on if I may ask?
First, let me please explain. I have spoken to Apple support, and have even done some profiles given to my by their developer team to find some answers. They / I have confirmed that the HomePod does indeed play at 16bit /44.1 kHz. (what they call Lossless) or at least there lower tier of Lossless.
In my test I have tired this;
Playing an album from Roon to my HomePod (as an Airplay) I get a "High Quality Signal Path"
May I please ask if anyone can tell me why this is only showing high quality, and not lossless?
In this test I have tried this. Playing a 24bit / 48kHz and I get this…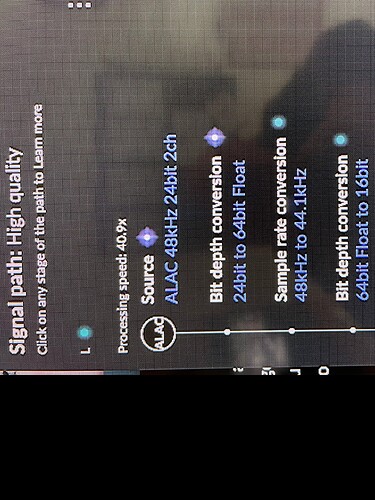 which is showing me that Roon is downsampling to 16bit / 44.1kHz. I understand this, but as stated when I play a file that is 16bit /44.1kHz is still only shows as high quality, when surely it should be showing as Lossless.???
Am I correct in my thinking?
And advise would be appreciated.