A LONG time ago when I painstakingly ripped all my collection in as FLAC files I chose a structure that was artist\album. This means compilations of various artists get spread around a bit in the file system. This is fine for jRiver and a lot of other tools which seem to just look at the file metadata and group various artist compilations appropriately. ROON doesn't. I have searched the forums but cant find a magic answer. I have played with the edit and merge albums feature but this is very clunky and time consuming to use and I have a LOT of albums that need fixing. Am I missing something? Can I change a parameter to make this problem go away or would completely moving my file structure around be the only way to fix it. I'm reticent to do this as all the metadata and file location associations for playlists and other music management tools might get just a bit messed up. Help! Here's a screenshot of what I see for compilation albums before I go through the process of merging them - the merge process is another challenge as it doesn't seem to read the tracks metadata and entails a lot of manual re-grouping, assigning tracks to the right disc, reordering then renumbering - ugh.
Example of how an album that should be grouped "isn't"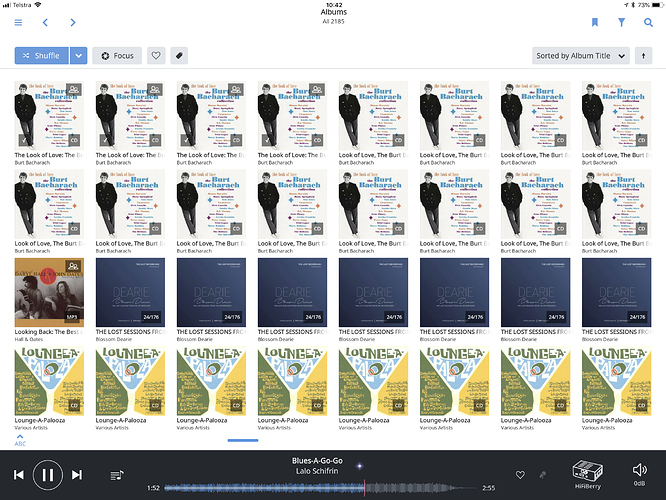 My setup:
Roon Version 1.5 (build 339) stable 64-Bit
On Windows10
Home built PC - Gigabyte M/B Core i5-3570 intel
8GB RAM
Samsung SSD for OS and Programs
Music is stored on an 8TB seagate drive inside the PC
Using Tidal combined with local music - 9894 files
Connected to a hIfIbERRY dIGI+ V1.3, RAAT 1.1.8
The house network is wired ethernet 100MB/s
Broadband is around 4.5Mbps DSL.