Hi Richard,
I am using AsQ+2.2.2240, so build 2240 I assume.
Robert
Dear ALL,
To eliminate any confusion I inadvertently caused, please take notice that the seven steps I provided in my response to Robert's original post in this thread (above) are accurate INCLUDING step 7, which I mistakenly identified as no longer applicable. This is temporarily the state of AsQ+2.2 with IRC (with or without iRC) until such time as Sonic Studio releases a build with automatic SRC. To be clear and in other words, SRC must be manually adjusted for the time being unless or until the present build is updated. When that occurs, there will "joy" re SRC.
Thank you for your attention. Any problems roon may have with my posts, please accept my apologies in advance and delete if necessary. Otherwise, my outcome was to help roon members.
Best,
Richard
Hello Robert,
Thank you for your response. I just checked at Sonic Studio/Support/Download/AsQ+2.2, and the latest published build is 2240. You have the latest build; and, therefore, my seven steps are accurate for those who encountered difficulty getting sound from AsQ+2.2 when employed with roon. Step seven (7) is still applicable for the present build. I am not privy to when a future build will be released. And I have overstepped my boundaries as a beta tester, so for all those who might contact Sonic Studio with complaints, I'll take the heat for the error. They don't scold me, actually, but I don't have to make mistakes that cause others discomfort.
Hope this clears up the mess I made.
Best,
Richard
Hi Richard,
I really appreciate your efforts in attempting to help, thank you. As they say here in The Bahamas "No Problem Mon".
Robert
Appreciation works both ways (smile).
Best,
Richard
Dear All:
Good news. Sonic Studio released a new build for AsQ+ with iRC, build 2255. If you recall I indicated that SRC required manual adjustment. That is no longer required. SRC is done automatically. Furthermore, in AsQ+'s UI under settings, during beta builds, even when roon plays the correct SR, the UI for AsQ+ did not reflect accurately the changes in SR although, AsQ+ played the correct SR. For example if roon played a 96/24 track and then one started a 192/24 track, the UI would still display 96. Now I am told by Sonic Studio this has been cured.
roon does an excellent job of playing TIDAL/HIFI. Add AsQ+ and one is provided with several enhancements for EQ including 13 filters and 4-band parametric EQ in addition to other features including Audio Control. Given that AsQ+ now allows for iRC (license required) one can add that feature and have even further improvements to SQ, e.g., impulse response correction (time and frequency). Or one can employ roon with Dirac Live. Options one chooses at one's discretion that takes roon which is marvelous to begin with to even a more enhanced SQ and control of room acoustics, etc.
There's more to come for AsQ+, but I am not able to disclose at this time. And I hope my post does not violate roon's protocols. For those who desire DSP/EQ etc. roon generously allows for a match with AsQ+ and in time, perhaps, HQPlayer integration.
roon just keeps getting better and providing an fertile application for enhancement and thus our enjoyment of music. I realize I am stating the obvious but the obvious is a delight and we are the beneficiaries whatever level of membership we have chosen.
Enjoy the music,
Richard
Thanks for the setup steps, REShaman!
I just started an evaluation of Amarra SQ+ and am running into an issue after going through these steps. I have set Roon to output to Soundtream, and SQ+ to output to my Dragonfly. Audio does play, and I am able to control gain from SQ+. But, the audio quality is "high quality" in Roon rather than bit perfect. The only source along the audio path that is not bit perfect is the OS output. Have any of you ran into this? Recommended fixes?
Hello Garrett,
I may not be understanding you. Do you mean SonicStream rather than SoundStream? If you download, or read the AsQ+ User manual, your questions regarding bit perfect should be answered. I also take it you have the latest build. And you are on a trial of AsQ+ is that correct and without iRC?
As much as I would love to be helpful, I am still not sure exactly what you're contending. AsQ+ should render the signal in BitPerfect format. Sonic Stream is the Zone selected in roon. And you need to uncheck everything when you enable the zone (SonicStream).
Plus you can always contact Amarra Support for specific support answers. I hope this helps or at the minimum Direct's you to a source of support that can address you concern.
AsQ+ has gone through some developmental upgrades since I last wrote that post.
Best,
Richard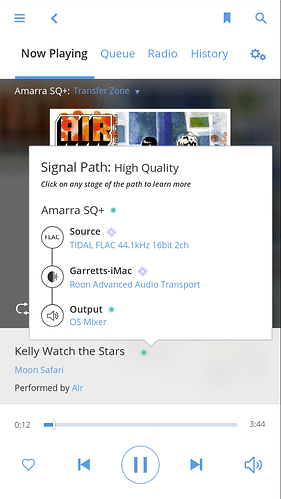 I took that picture from my phone. That is the signal path I get after setting it up as you recommended. I've also traded emails with Amarra support and am still stuck in this same place. I'm not sure what I am missing. I am not in exclusive mode in any of the outputs.
I appreciate you helping out with this–i know this isn't your job. I'm just conflicted–i love the Amarra sound and the Roon UI. It would be awesome to get them working together.
Dear Garrett,
I stand corrected. I just booted up AsQ+ 2.3.2293, the latest published release of AsQ+. And roon latest build. And randomly selected an album. You didn't bother to share with me what Amarra Support related to you so I have no clue as to what they advised you. But, I have my own experience as my good counsel. I took two (2) screen captures of my present experience with AsQ+ and roon with SonicStream as the Zone and set as it should with all other enabled zones in NON-Exclusive model. My results match yours.
I haven't a clue what to expect with AsQ+ 2.3.2293 and room's new build. In fact, I have been out of the loop with Sonic Studio for months now. It's not up to me when I am in the loop and when I am out of the loop. I can only rely on their good graces. For some time now, I have been sent to the Russian Front for whatever reason. SO, if Amarra Support is connecting with you and providing you with support, good! Whatever they relate to you comes from the creator. Far be it for me to suggest other than what they relate. Now that I have taken the time to review what my screens tell me, make room on your seats for me. Here are my screen captures taken this morning.
I had no intentions of misleading you. If these are the results with roon and AsQ+, so be it. I am able to enjoy the music in any event. Is it BitPerfect? Not on my Mac Mini with the latest builds of both programs. It's been so long now that I can no longer provide any credible feedback. Please accept my apologies if I have misled you or confused you in any matter. I am sharing with you my direct experience, which matches yours. As far as I am concerned, Sonic Studio has taken a distant stance from us users and I don't understand their reason for doing so. At least they came up with a response to the iTunes 12.4 Fiasco that affected Amarra Symphony. If bit perfect is a deal breaker, it looks like they broke the deal!
Best,
Richard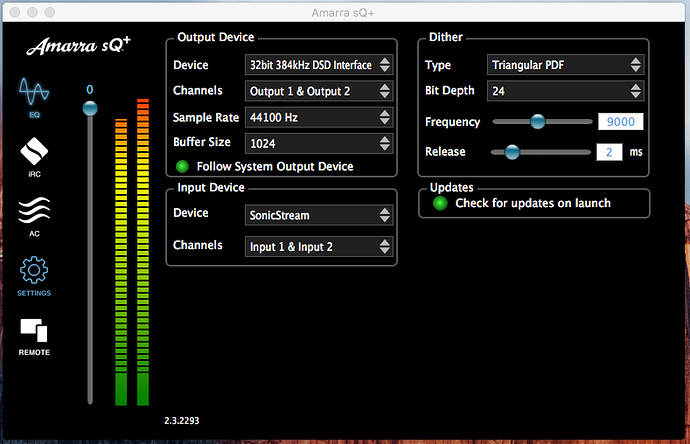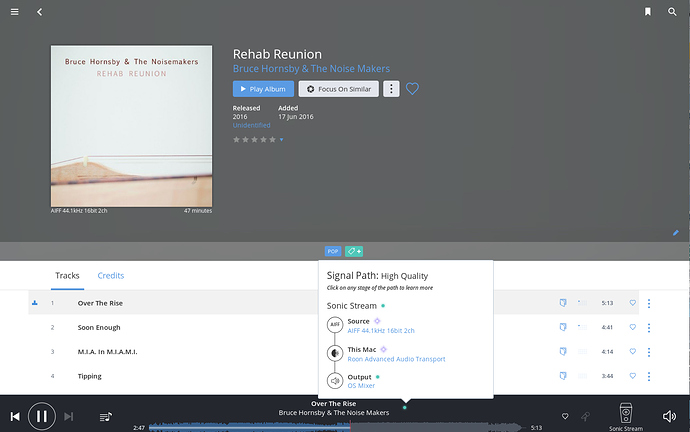 Interesting that it isn't working anymore.
I suspect Sonic Studio is being pretty quiet about this right now because of Amarra Four coming soon. It sounds like Amarra Four is going to line up Amarra as a direct competitor to Roon. Hopefully it comes out soon, or they provide more details on it.
Hello Garrett,
When I was in the pipe line, as a beta tester I was not at liberty to discuss what is coming from Sonic Studio. My estrangement does not relieve me of my honor not to disclose what was shared with me when I was in the loop. That I have been relegated to stranger status was not of my doing. In fact, I haven't a clue what I did that left me in the dark. But so be it. Perhaps, you have a pipeline into the future plans.
In any event, I am leaving it as is. Best that way. Sorry I misled you. I do recall bit-perfect being available when I was beta testing. I have a vivid imagination, but I don't make things up. That was quite a while ago. I was also beta testing TIDAL HIFI alone with ASQ+ and Amarra For TIDAL with iRC.
Enjoy the music,
Richard
Thanks for this. I was getting frustrated but now SQ+ is working perfectly with Roon.
Dear Thomas,
Thank you for taking the time to post.
Happy to have shared information that was helpful to you so that your experience with a player works to deliver the enjoyment of the music.
Best,
Richard
Not sure where to post this, so I've put it here.
Amarra's latest versions supports Roon. I've basically quit Amarra when I got Roon - at the time, there was no support. I presume some people are using Roon for navigation, but using the Amarra sound 'engine' with it. Does anyone have any experience with this that they can share?
At the time, there was little to chose from sound quality wise between the two products and Roon killed it for convenience. I've not kept up with Amarra since then, but the new announced version has a lot of additions going for it including MQA, DSD and so on. Basically, I'm wondering whether to upgrade my Amarra and use it with the Roon interface.
Any advice would be greatly appreciated.
Where did you read that … is it recent?
I've merged your post into this topic … quite a lot of discussion.
I've been trying to use Roon with Amarra SQ+ which should technically work but I'm having some issues.
Amarra support is responsive but I'm doing something wrong.
I thought I read it on the Amarra web site under the Amarra 4Luxe (silly name) announcement. However I looked again after your post and it was Tidal, not Roon that was supported. Sorry about the confusion - I'm definitely going senile.
Having said that, looks like they've completely upgraded the product. Hopefully, we will get MQA in Roon soon

What are you using Amarra SQ for? if its EQ, try the Parametric EQ in Roon 1.3 – if its more, then ignore me

Obviously a huge fan of Roon; game changer for me. However, speaking only for myself, I still like the sound I get when using Sonic Studio products. The Roon output engine is absolutely stellar so this is just subjective.
So, that's why I was trying to get Roon to output to Amarra sQ+ and then to the DAC.
If the two products were ever incompatible, I doubt I would leave Roon but I do like the flexibility.