Roon Core Machine
Roon Rock runnig on a NUC
Networking Gear & Setup Details
Modem - D-Link GSL 225
Router - TP-Link Archer C2300
Connected Audio Devices
2 x Windows, 1 x Rooipee
Number of Tracks in Library
Description of Issue
Hi,
generally try to work things out myself but this ARC has got beyond me.
Initially did not work so mucked around with uPnP settings on both devices to no avail. Reconfigured router from an access point to a Router in admin and moved cable from LAN to WAN. This got a result - uPnP worked but I got the double NAT problem.
Managed to put the modem in bridge mode and the router direct - this worked and ARC functioned…but I lost the audio on my office computer and couldn't get it back despite trying usual firewall stuff. Then the whole network crashed, Roon demanded logins and the internet went down - so no Roon anywhere - couldn't get to local library at all.
A day later I got rid of the bridge on the modem and Roon works and internet back but no ARC.
Fiddled some more - read that using LAN rather than WAN to the router should be an effective bridge (what I originally had) but still getting the uPnP message again as attached screenshot.
Does this mean I have to set up manually - not sure how to do first step of setting fixed IP to ROCK…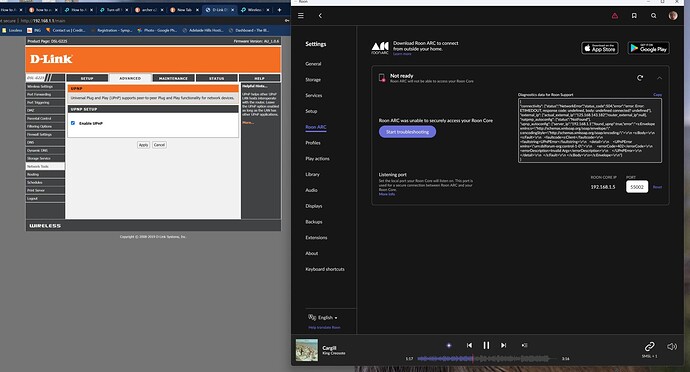 cheers,
James