Been testing Roon for over a month now and 2 weeks ago, I've decided to move from Meridian Sooloos and over to Roon. Old music storage was located on an Meridian MD600 with 2x2TB drives in RAID1. Main reason for moving over was the Tidal integration and functionalities that Roon offers.
I was reading about the Nucleus and looked for what would be the best Roon Core for my setup.
Nucleus is quite priced nowadays in Norway and does not include any storage device. Since I like to have control of the Roon Core myself and choose hardware myself, I decided to build my own Roon Core by separate computer parts and a cabinet that looks nice in my AV rack. Nucleus does not look bad as well, but this was not a part of the decision I made in the end anyway.
Computer parts were carefully chosen and I know in the end it would be overkill for a Roon Core anyway. But, except of the SSD drive I choose, the home made Roon Core would be under half price for a Nucleus. Computer setup is shown below.
Computer Specifications:
Motherboard: ASUS ROG Strix B550-I GAMING
CPU: AMD Ryzen 5 3600 Prosessor
CPU Cooler: Noctua NH-L9a-AM4 w/Noctua NF-B9 Redux 1600 PWM 92mm Fan
RAM: Corsair Vengeance LPX DDR4 3600MHz 16GB
Graphic Card: ASUS Geforce GT 1030 2GB Silent
PSU: Corsair SF600 PSU, SFX
OS Storage: SAMSUNG 980 PRO M.2 PCIE 4.0 NVME 250 GB
Music Storage: Samsung 860 Evo 2000GB 2.5" SATA
Cabinet: Fractal Design Node 202 black
The computer was built and here is some pictures without the cabinet cover on: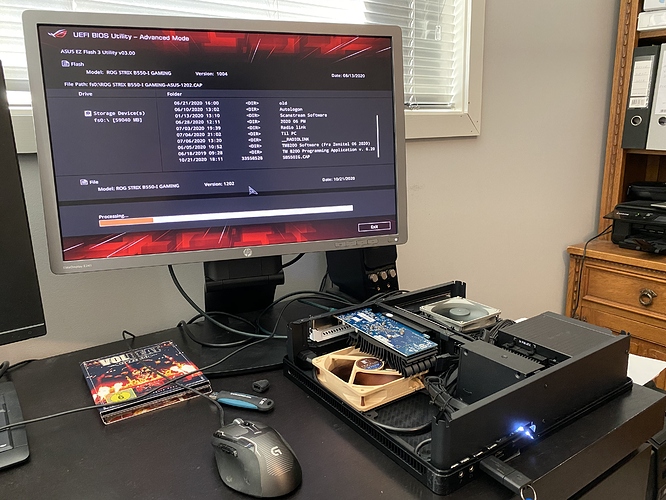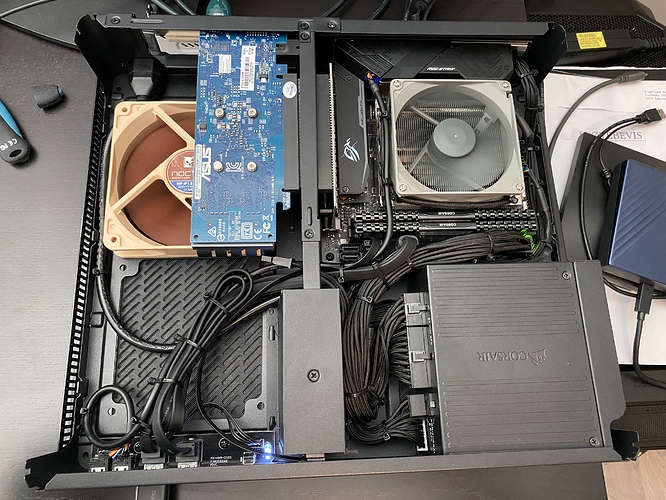 Pictures before the 2TB SSD was inserted (Late delivery)
I decided to run the Roon Core with Ubuntu Serer 20.04 LTS.
Installation went fine, but after first boot I could not get any network. After some time, I found out that the latest Ubuntu Server image I've downloaded was running Kernel 5.4 and did not have support for my on board network card. Updated to Kernel 5.9 and all drivers now installed properly.
I also removed the cloud-init that comes with Ubuntu Server and updated Ubuntu to latest version.
Then I installed the Roon application by following the guide here on the Roon site.
After that, I decided to stress test the Roon Core to check temperatures with s-tui.
CPU bumps up to about 80 degrees Celsius after some minutes, but after stopping the stress test, it went down to 45-50 degrees. With load when using Roon or at idle, there is no noise from the computer. The fans are running very slow and I can't hear them unless putting my ear close up to them. This was the main goal to make it totally silent and I can say I achieved this by a good margin

Next, I did the following:
Installed Samba and moved my 800GB music library over to the new SSD
Setup rClone with Dropbox to keep a backup of my library in the cloud
Then I enjoyed playing my music for some days on a Meridian Audio 7.1 channel setup.
Meridian Audio setup:
861v8 (Surround Controller with ID41)
805v5 (CD Player with ID41)
DSP8000 (40th Anniversary) (Front Left/Right)
DSP7200HC (Front Center)
DSP3200 (Side Left/Right)
DSP5200 (Rear Left/Right)
DSW (Subwoofer)
HD621 (HDMI Switch/Controller)
In additional, I use an Oppo-93 and Sony 4k Blu Ray player to the Meridian 861 via HD621 to extract the multichannel SACD or DVD-Audio disc's to the surround system. From the Blu Ray player, the HDMI 2 output is connected to the HD621. The HD621 and 861 is connected via an MMHR (Meridian Proprietary) cable, basically an CAT cable. This has been working flawlessly for years.
The ID41 card's were showing up as zones in Roon and I can't say there is any degrading in the sound quality from Sooloos to Roon. For playing music in DTS, I have to stream to the 861 to get surround and I had the same thing with Sooloos before. Playing in Trifield is fantastic!
The Roon Core HDMI output (NVIDIA Graphics card) were connected directly to the HD621.
Next thing would be to try Multichannel from the Roon Core and this was not a straight forward job in Linux, but I've managed after some hours. Short version below.
First, there need to be a video signal from the Roon Core in order to get HDMI sound output.
Install NVIDIA drivers for the graphic card
XORG look a like desktop version installed suddenly, not sure when...
Disable sleepmode, screensaver and etc. in Linux
Enable automatic login for the XORG desktop.

Finally, I had picture and a simple desktop with a background.
Guess the XORG was installed by the NVIDIA driver installation.
Next, I had to enable the HDMI port as a zone in the Roon settings.
Followed this guide: Link
In the end, I finally could play DSF64 5.1 files out from my Roon Core and other multichannel albums in FLAC or DVD-Audio format I had in my library. I could see that the Roon Core was converting it to PCM and Channel Mapping from 5.1 to 7.1. But, there was something really strange with the sound…I could clearly hear a some kind of a "surround echo". It sounds like all the instruments were in all channels and really sound bad for me. The 861 was set to same presets as before when playing multichannel, but there was something wrong.
I decided to try a multichannel SACD in my Oppo to see if the issue occurred.
The same echo in the surround was from the Oppo to (different HD621 input), even with the same preset. All tracks sounded to loud and really not surround to my ears at all. I asked myself if the Roon could have changed some of the parameters in the 861 or something, but that is impossible.
I've been reading here on the forum and I my next move will may be to to use the HDMI input on the OPPO as a transfer media to my HD621, but I'm a bit afraid to mess up something now. For me, I can't really see that the HDMI can break something.
Anyone with any suggestion or comments for my setup?