Thanks Larry,
Looking forward to start using it! (unfortunately I have to wait till I'm back home

Best regards,
Sjoerd
Hi Sjoerd,
I wish you a lot of fun with roon and your R1000E !

Best,
L.
Dear All,
we are very glad to announce that a couple of T+A streamers and receivers have just received the Roon Ready certification.
I have created individual threads for all Roon certified T+A devices. More detailed information for each certified T+A product can be found there.
Best regards,
L.
Hi Larry,
Is this also the case for the T+A DAC8 DSD or the HV series? I do not see them on Roon's identify device list… I do see MP8 though…
Hi Jonnie,
DAC8DSD is a pure DAC - this is why it can't be "roon ready" certified but it is a "roon tested" DAC. You can use it in combination with any roon briddge to stream and play your music.
Please note: If you intend to play DSD files with sample rates higher than DSD128 then you will need to use a Windows based roon bridge with the T+A USB and ASIO driver installed on it.
For the HV series we plan to have the MP3100HV certified as a "roon ready" device within the first quarter of 2019. The roon ready feature will then be made available through a normal web-based firmware update. I will post here on this forun when this update becomes available.
Best,
L.
Hi Larry,
I understand, maybe my question has to do not with being Roon Ready but with Roon not having the device on Roon's "Identify Device" list as other pure dac's are such as Mytek Brooklyn DAC, DragonFly Red…
I am planning to play DSD512 natively through a Sotm sMS200-Ultra Neo
It had native compatibility for T+A DAC8 DSD (as well as other DACs), but it is not working with the latest 2.6 DAC8 DSD version due to new USB ID (if i am correct)
A friend of mine (also with sms200sultra and DAC8 DSD) is in touch with May Park from sotm so they can add support to the newer v2.6. Sotm had to contact Amanero to get the specifics of the chip to be able to do add suport on the next kernel version.
Would this work? Not sure if someone from T+A could help/facilitate here i am very curious about listeing to the dac in 512 as everybody says it is leaps and bounds ahead

Hi jonnie,
regarding DAC8DSD not appearing on the identify device list:
I have contacted roon and I hope that DAC8DSD will be soon added to this list.
Regarding DAC8DSD connected to a Linux based network/USB bridge:
Currently the DAC8DSD only supports DSD up to DSD128 (DoP mode) from a Linux based source. This should be possible without any changes or firmware upgrades to the DAC8DSD.
Higher DSD sample rates require Native DSD mode. This mode is currently only supported by Windows based sources with the T+A USB and ASIO drivers installed.
Note: We are working on Native DSD support for Linux based network bridges but we really can not say if and when we can release this to the public…
For the time beeing we recommend using a Windows based network bridge like for example roonbridge running on a Windows (mini) PC. Roon bridge on Windows will support Native DSD up to DSD512 with our DACs.
Awesome!
This is how i am using it as of now and it works fine.

That's strange, because SoTM lists DAC8 DSD (and others) as being DSD native compatible. See here:
http://docs.sotm-audio.com/doku.php?id=en:eunhasu:start#supported_native_dsd_dac_list
T+A DAC8DSD-V2.0, MP1000E-V2.0, MP2000R-V2.0, MP2500R-V2.0, MP3100HV-V2.0
0x2ab6, 0x0004
SoTM says that new v2.6 changed usb id and hence they have to include newer information from Amanero on the kernel to support it.
My previous DAC, the Mytek Brooklyn DAC+ is also on that list and i can atest that native dsd was working perfectly.
I am really glad to hear this since i know i am missing the DAC's full potential, but would need to invest in a pc just for that purpose… (I use a mac mini and sotm sms200 ultra)
Something like a Intel NUC running win10, right?
Ideally for a NUC i would rather it to be running ROON Rock OS, but as it is based on linux I would also not be able to achieve DSD512.
Thanks Larry

Hi jonnie,
here a bit more background information:
We had made somme additions to the linux kernel some months ago to support native DSD512 with our DACs on the Linux side.
It seems that the USB VID/PID numbers given in the SOtM list (0x2ab6 / 0x0004) come from these kernel patches.
A linux kernel having these patches applied can output native DSD to our DACs. So that is for the transmitting side.
On the receiving side:
A normal DAC8DSD has PID/VID = 0x2ab6 / 0x0001. So a normal DAC8DSD is not recognized by the Linux device as beeing native DSD 512 compatible. With this PID/VID combination a standard DAC8DSD will be recognized as DoP/DSD128 capable and this is what you have now.
To make native DSD512 from Linux work we need to install a new linux compatible firmware (with PID/VID = 0x2ab6/0x0004) on the DAC8DSD. This new firmware exists - but only in experimental form and we feel that it is currently not mature enough to be released to the public.
For anybody interested in experimenting with linux native DSD512 on DAC8DSD (and other DACs with Amanero USB reciver) some information can be found in this thread: https://github.com/lintweaker/xmos-native-dsd/issues/12. -> See the OE333 post from September 20th for hints on the DAC8DSD.
Regarding the Windows based bridge: A NUC should be fine for this purpose.
Best,
Larry
Hi Larry,
I have the same SOtM and a DAC8DSD v2.6, that is recognized by SOtM as you can find in this picture: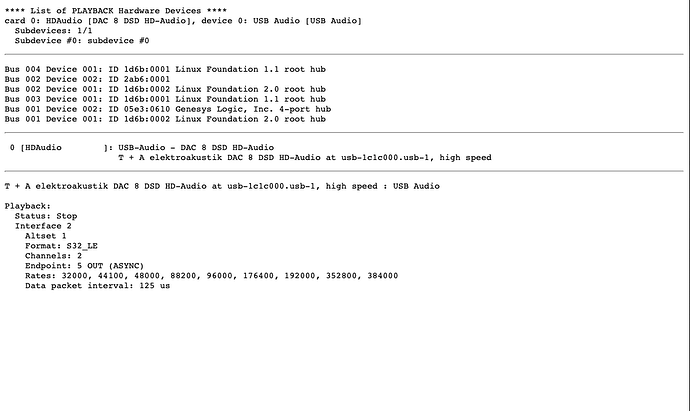 I cannot understand your explanation fully… If I have the "normal DAC8DSD" PID/VID, with v2.6, how can the previous v2.0 version be the one with experimental firmware that allows native DSD? Or are you saying the ones with "0x2ab6 / 0x0004" were not upgraded by T+A, and were for sure originally "0x2ab6 / 0x0001"?
Thanks
Hi Miguel,
yes, your DAC is recognized as USB device 0x2ab6:0001. This is the standard DAC8DSD.
What you see below "Altset 1, Format S32_LE" says that your DAC will work with PCM up ot 32/384 and DSD up to DSD128 in DoP mode with this Linux device.
What you need for native DSD512 from Linux is this: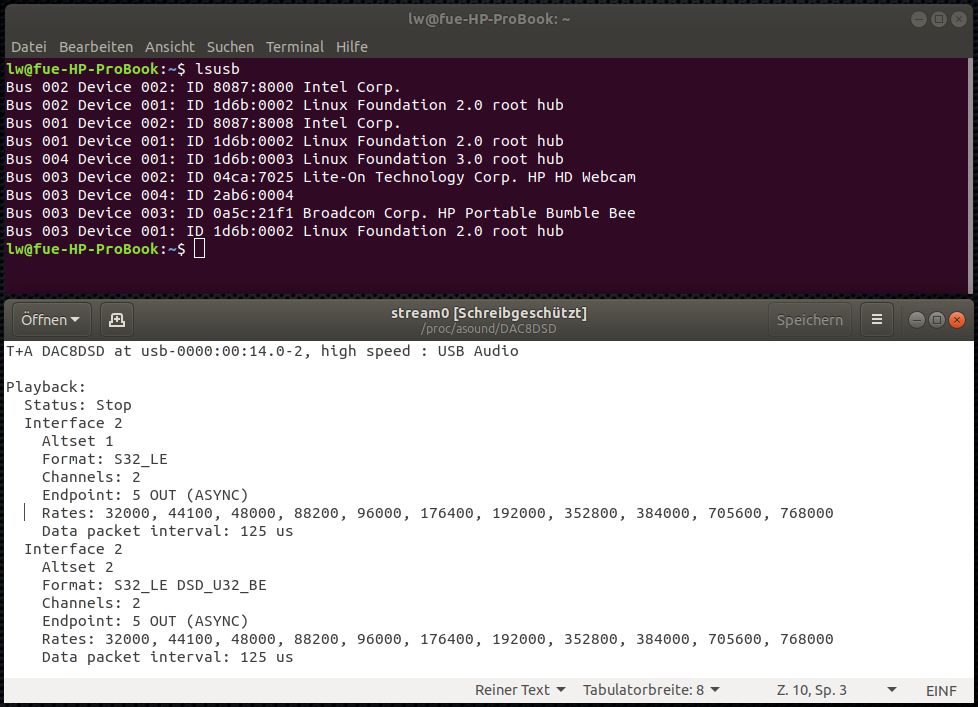 On the upper screen you see this DAC (with the new experimental firmware) recognized as USB device 0x2ab6:0004.
The lower screen shows an additional Altset 2 with Format "S32_LE_DSD_U32_BE". This is what you need for a native Linux DSD512 transmission.
So your DAC as it is now with its standard firmware will be working fine in conjunction with a Linux based source with all PCM rates and with DSD up to DSD128 but (currently) not with DSD rates above DSD128 in native mode.
Best,
Larry
@Larry_HV many thanks for your thorough explanations.

Totally clear now what the situation is and what are the remaining steps.
Amanero would have to stabilize the firmware code with new linux driver while not ruining the already excelent windows driver
T+A would have to approve this new driver to their stability and sound standards and get a way to update through MP8, factory or an customer updateable app (ideally)
Maybe T+A can gift us with a shinny new customer updateable firmware supporting these alternate interface set

PS: i can see the DAC will also support 768 PCM?
Regards
Sure, critical point is Amanero ability to succeed on firmware code stablization ! Any news ?
There is still instability reported from users flashing to the latest Amanero firmware (non-official) on late November.
Developments seem to last since 2016, so I wouldn't get my hopes up.
In my case, to achieve DSD512 (which is what is supposed to be the end-game of this DAC) I would have to trash my network player + mac mini for a PC with required windows license.
Hi @Larry_HV
Regarding the quoted text by another user:
Has this Amanero FW been approved by T+A to be 100% glitch free?
Or just user feedback so far (which is still valid of course).
Just curious if T+A Engineering have commented and if they now ship with the mentioned firmware?
Dear All,
T+A has done a lot of testing with native DSD512 from Linux sources with the latest versions of the Amanero USB firmware. We can confirm @volpone 's findings that the streaming from Linux is stable and meanwhile works without issues.
There were however some problems with the new Windows driver required for the new Amanero firmware. As soon as these problems are solved we will release new firmware for the DAC8DSD including the latest Amanero USB firmware. Currently I can not say when this will be the case (hopefully before the end of this year - but I can not promise this, as we depend on Amanero's Windows driver).
As soon as the firmware is officially released, we will give some information about upgrading products already in the market.
For the time beeing there is the possibility to switch to the Amanero beta firmware (like @volpone did) which works well for Linux. For Windows based sources, please stay with the current firmware.
Best,
L.