A bunch of us over on the unofficial Roon Discord have been coping with the current lockdown/quarantine situation by coordinating group music listening parties. We've been doing lunchtime album discovery and then evening DJ sessions where one of us will play music for the rest of the group. We've been using a dodgy little Discord music bot and suffering the low-fidelity 128kbit streaming quality available via Discord voice chat. The social part is great, the quality part is not. So… we wrote a new Roon Extension to solve our problem.


RCDJ is an extension for the popular Roon music player. It allows Roon users to synchronize their music playback with other Roon users over the Internet. One user is designated as the DJ. Whatever tracks the DJ user plays on their system will be syncronized to all the subscriber users on their local Roon servers.
This extension does not sync any actual music files or data. All songs played must be independently available to all the participating users
This only works if the users have common local libraries or – more likely – subscribe to the same streaming services like Tidal or Qobuz. In practice, this works really well as long as everyone playing along has the same subscriptions.
Each Roon Core running this extension will connect to a central DJserver which coordinates the playback for all the participating users. In the extension settings, each roon core subscribes to a "channel" as either a DJ or Listener. When the DJ for a channel plays a song, all the listener users in that channel will begin playback of that same song if they have it available. In the event that the song is not available, a listener will either be met with silence or with a random selection depending on if they have Roon Radio enabled for that zone. When the DJ's next song begins, playback will resume for the listener. Anyone can create their own channel and an unlimited number of people can join that channel as long as they know the channel name.
You can run this, create your own private channel, and share your music with any of your friends who are also using Roon. You can run this extension and join us on Discord and hang out in our DJ channels. You can even run a private DJ server for yourself and your friends if you want to stay completely private.
This extension can be installed using Roon Extension Manager v0.11.5 if you're using that (which I highly recommend!). It can also be installed "by hand" if you want. More details, documentation, and setup instructions can be found on the GitHub repository for the project: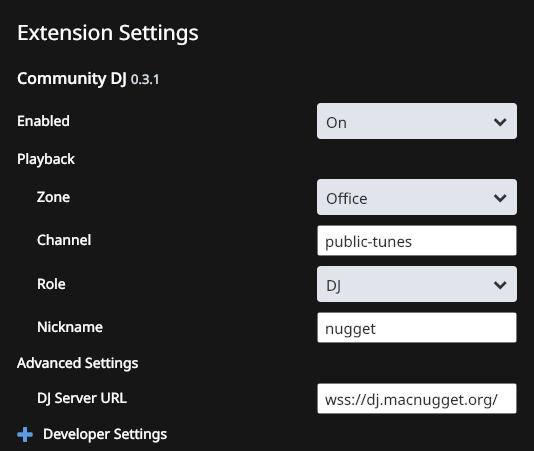 This is a brand-new extension. Right now it works great, but it's light on bells and whistles. We're actively developing it and have some big plans for what else the extension should do. Please feel free to join us on Discord to share tunes and talk tech.