Content you're reporting an issue with
Entire groups of albums, for example: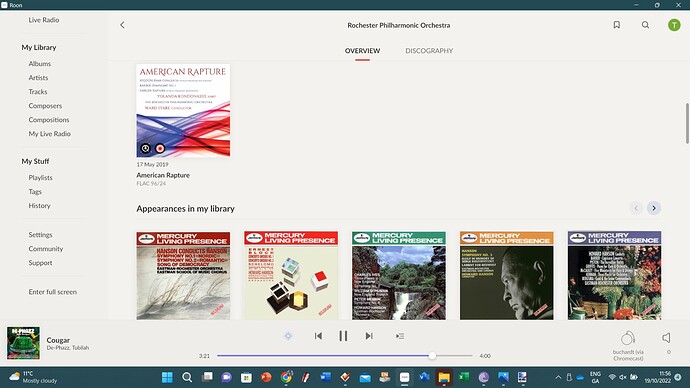 Have you made any edits to this content in Roon?
Yes, all of them.
Is the album identified in Roon?
Yes, all of them.
Is this content from local files, TIDAL, or Qobuz?
Occurs with both, local and Qobuz albums.
Screenshot of import settings
These are the relevant import settings: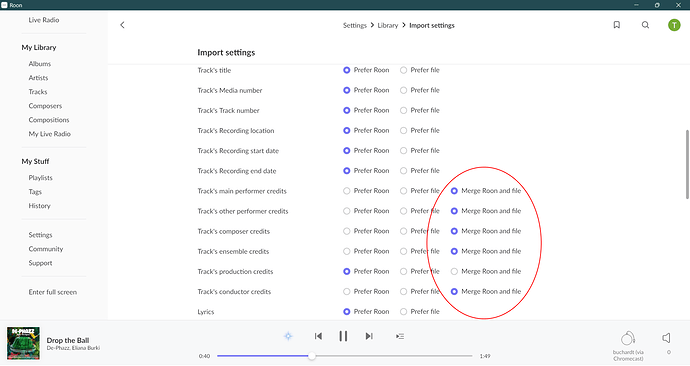 Description of the issue
I have my track import set to both roon and file. This way where my tags miss artist credits roon completes them, and where roon misses artist credits, my tags complete them.
However where roon has got the artist credits wrong I remove them so only my artist credits remain. The problem is that in several screens roon will still display as if the roon credits still exist. My removing the bad credits does not result in what I would consider expected behaviour. This is especially noticeable where one or more of roon's meta-data suppliers or roon itself is getting the equivalencing wrong. For example, in the above example the orchestras "Rochester Philharmonic Orchestra" and "Eastman-Rochester Orchestra" are two different orchestras. Both have many equivalents so it can be confusing. Essentially, one is a "pops" orchestra and the other is a "serious" orchestra.
What is happening is that I have removed all the roon "Rochester Philharmonic Orchestra" credits from the Hanson conducted albums and replaced them where necessary with "Eastman-Rochester Orchestra" credits. But as you can see roon is still displaying the Hanson albums as albums which have a "Rochester Philharmonic Orchestra" appearance.
To me, removing the credit means removing the credit. This is just an example. As far as I can see, roon will retain a notion of "appearance" for all artists throughout both local and streamed content despite removing the credits. This "Eastman" scenario seems to be quite common in the US. Another example is mixing up the Boston Symphony with the Boston "Pops". But the point is that surely roon should be removing all references to the credit when a request is made to remove it? It is really annoying in shuffles where I would expect shuffling Rochester Philharmonic to create a cmpletely different vibe to shuffling Eastman-Rochester. I haven't really checked but it may also be a contributory factor to sometimes disappointing radio streams where despite a lot of re-tagging of credits, orchestras with completely different programming traditions are mixed up.