I have a Qobuz version of The Pires Mozart and indeed Beethoven gets a composer credit. No. 20 was a performance favorite of Beethoven apparently and the cadenza even has a catalog number WoO 58.
https://www.free-scores.com/download-sheet-music.php?pdf=67444
For me personally the Pirez Mozart album doesn't show up when I search on "beethoven piano concerto 3". Instead, for me the Jan Lisecki Mozart shows up.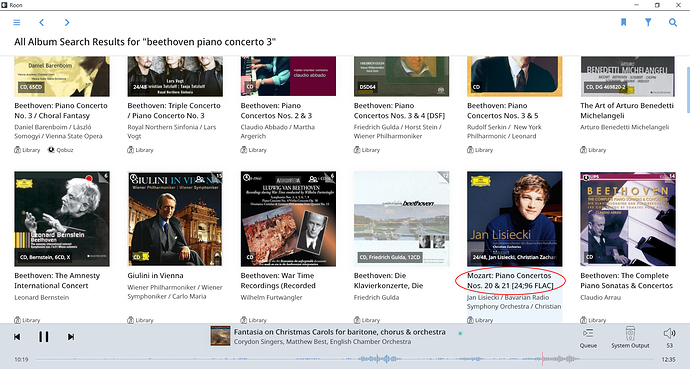 This is a local album so I have some control over the edits. If I remove the Beethoven composer credits then it no longer shows up in the search. If I change the Composer credit to a Cadenza credit (my preference) then the album shows up again in a search. Personally I would prefer that the Cadenza composers did not show up in a Composer search but others may have a different preference.
My experience with the way roon handles all the different "composer" related roles like Composer, Cadenza, Arranger, Orchestrator is unexpected side effects like this. In addition I probably listen to more Vocal music than anything else and I find unexpected consequences (different to instrumental) with the way roon handles Libretto, Lyricist, Text, Poetry etc. as well.
I really don't know what to say or suggest.
Despair all he who enter

I've commented on the Mozart. I also have quite a few Beethoven Violin Concertos but not the Faust. They do not turn up in this search. I added the Faust (good pick BTW) from Qobuz but that didn't show up either. There will be a reason explaining these different results I am sure but I cannot think at the moment what that might be.
Something else:
Is there any way to switch of that annoying Dialog when I want to open a booklet form within Roon? If there only is one file, It should open straight away. Any hidden setting somewhere I am missing?
Many thanks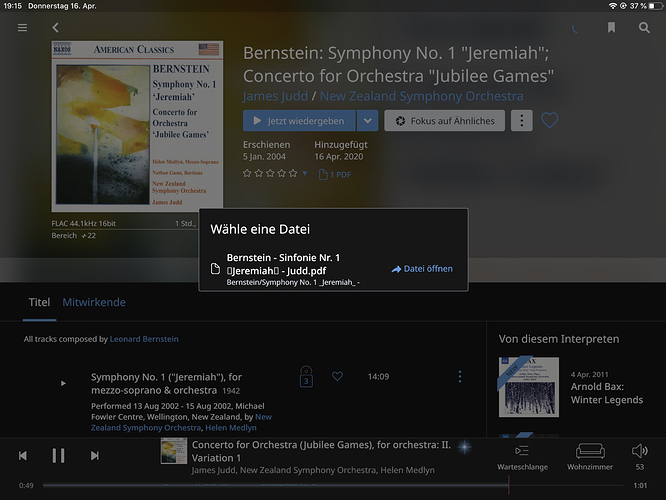 Next problem:
On that record I am just listening to, I have one Part (part III. of Symphony 1 called "Lamentation") showing up 3 times (!!!).
How can I delete/correct this triplicate entry? No idea how this can happen. There is only one FLAC file for this in the folder…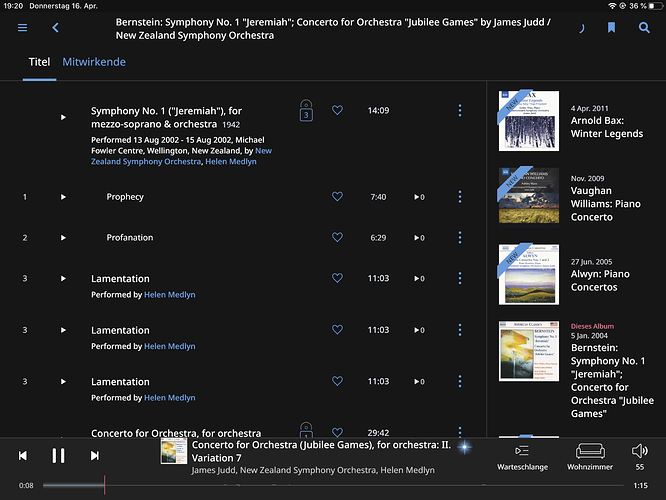 Just came here to say that I enjoy reading the discussion very much, despite not really being a classical music listener. Keep it up!
Here's hoping some core member of Roon product development finds the time to go through the thread thoroughly! It kind of (strangely) frustrates me that classical music listeners cannot seem to find their peace of mind with Roon.
Some of us can

Depends what you understand under piece of mind.
I cant find peace of mind, when I see triplicate tracks listed on my records. I do find peace with Roon by switching back to my UPnP control point and see all is good and no triplicate tracks…
Anyone has a solution for my solitude on offer? I cleared my library in "Settings" in case thats being asked…
I agree, lots of good points being made here on all sides of the discussion. I listen to a lot of classical music. I used to have a large (mostly illegal …) mp3 collection I would obsess over storing and tagging perfectly. Right now I have a modest local collection, and mostly Qobuz albums in my library.
If I want to listen to a certain piece or performance, I find that usually I can get to the right place by searching for composer or performer name and clicking about a bit in the Albums results. There are always some inconsistencies but I take them for granted … lazy maybe, but it doesn't bother me too much and I just want to get to the music.
Then again I don't consider myself a collector … some issues @bbrip (among others) raises seem really frustrating and can hopefully be taken care of.
This is similar to my experience with Roon.
I find searching for classical stuff irritating. I was searching for Rachmaninov's second symphony the other day. A particular recording recommended in Gramophone magazine. After searching and wading through stacks of returned result for the second piano concerto I still couldn't find what I wanted.
Then I got into is it "Rachmaninoff" or "Rachmaninov". Also single movements and results for ghastly compilation albums cluttered up the search.
I could do without the hassle but I've learned to live with it.
I didn't have the Naxos Jerimiah but its on Qobuz so I added it to my roon. It formats fine so roon is capable of formatting this performance correctly.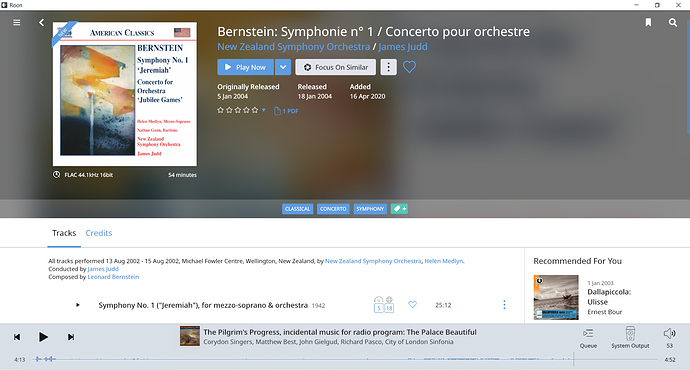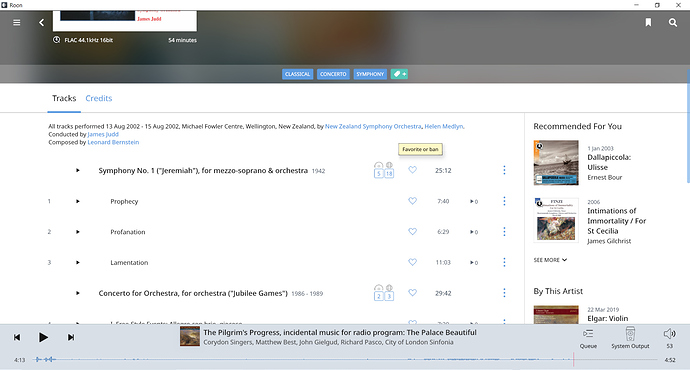 It's difficult to know what has gone wrong in your case so this is a guess that may or may not help.
In your screenshot there is timer circling in the upper right corner. Has roon finnished synchronising the database? If it is still circling you can click on it and see what roon is doing in background. Often if you just let it run to completion, problems go away.

Often, if you have been making a lot of changes roon will get confused and the database for whatever reason is not properly synced. A trick I find that often helps is to move the album folder out of the watched folder. Roon then removes the album from its database. Next, go to Settings->Library->Clean Up Library and delete the "deleted albums". Next copy the album you moved back into your watched folder. Don't try this if roon is still syncing your library after a lot of edits. Wait for it to finish. There are no guarantees but its worth a try.
I think I have cross posted. You should try moving the album before clearing the library in Settings and moving the album back again if that is what you mean.
yes thats what I did - to no avail. When I copied it back, the same again…I tryagain tomorrow. thanks.
Its doing yet another round of audio analysis, how knows why…
Yes, but unless we spell out these issues loud and clealy, the software will just not get any better…
I see - thank you Brian - appreciated.

I see things a little differently. I currently have 7,584 albums (about 35% classical) in my library and not a single one of them is messed up in the way some people describe here. I only have 57 unidentified albums. Almost all of the albums in my library are CD rips or downloads (in fact, only 7 of them aren't!), but I regularly use both Tidal and Qobuz to discover new music. Whenever I find something that I really want to have and keep, I buy it. If I'm not happy with the information that I get from Roon's metadata providers, then I use a tag editor (Metadatics). In most cases (>70%), this isn't necessary. Is Roon perfect? No, it isn't. Do I think it's a great piece of software that helps me enjoy my music? Yes, I most definitely do.
(BTW, several times a week, I see unidentified albums etc. on threads like "What are we listening to…", although the same albums are correctly identified in my own library. I sometimes tell the posters, and then they try again and their albums get identified, too…)
Yes, but there's a significant difference between constructive criticism and untenable exaggerations. The claim that "Roon is simply unusable for classical collectors" evidently falls into the latter category. For this very reason, it's counterproductive! (Unless, of course, all a user wants to do is blow off some steam…)
Agreed, there is a portion of exaggeration. You need that to get attention - and Roon understands that concept quite well from looking at their marketing claims - that got me here in the first place.
The experience is way below satisfying. And I have yet to discover how and why "Roon understands my music".