As off yesterday I noticed a severe error in the Roon Remote app on my Samsung Tab S5e tablet.
After starting up the Roon Remote app for the first time after the recent update I saw the exact same warning (as posted here Screen resolution error) about my screen resolution being too small to run Roon. After clicking on "maximized", all appeared to work without problems.
"Appeared" indeed.
Because now the opening of PDF booklets from the Roon Remote app does not work anymore. Might there be a relation with the resolution warning?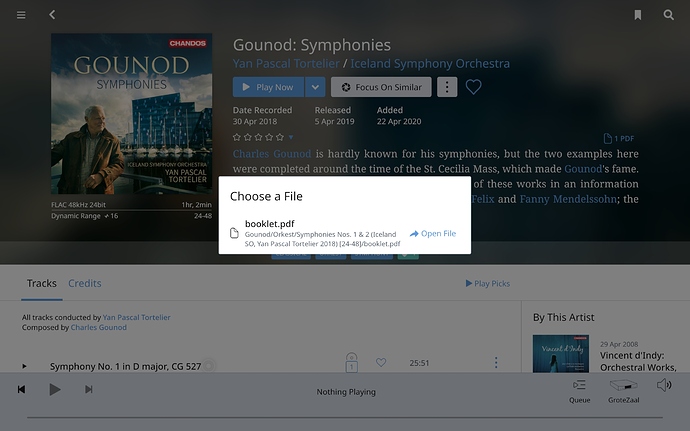 After clicking on the "Open File" link (see the above screenshot of my tablet) nothing happens.
Opening booklets from within the app was for me one of the most important reasons to start using Roon, so I really hope this can be fixed asap!
Just to prove that the problem does not lie within the tablet itself I tried successfully to load a PDF booklet via the ES File Explorer on my S5e. But that's way too cumbersome for reading booklets on a regular basis!
Oh, and opening the very same booklet that I tried in the above screenshot is indeed possible from within the Roon Remote on my PC, so, I assume the Core is not at fault here.
Please, Roon, get this fixed ASAP!!!