I'm wondering if you really understand how Roon search works…
If you search for "Tom Waits" Roon does not know if you are really searching for "Tom Waits" or "Tom" and "Waits" separately. If you remember, one of the examples in this chain of discussion was a search for "Genesis Jesus" where Genesis is the band and Jesus is part of the song so you CANNOT assume two words (or more than two words) just refer to an artist.
So Roon's first result screen returns a combination of search results for "Tom Waits" and "Tom" and "Waits" and as you can imagine, there would be literally thousands of matches for these words which are very common. It cannot assume you only want "Tom Waits" results because then it would fail completely for "Genesis Jesus" as there is no band or artist named that. So it has to pick some reasonable combination of things to display. You can argue about whether it picked the right things but it would be untenable to list them all. So the first results screen that looks something like this (depending on what is in your local library):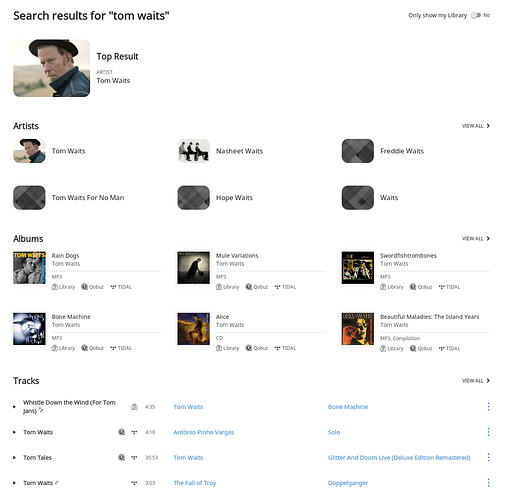 It does properly weight the most likely results to be the Artist Tom Waits (under artists) and a selection of Tom Waits Albums under "Albums" as that is a likely choice for your search terms but of course does not list everything.
If you then tell Roon you really want just the artist "Tom Waits" – which is what you want – by clicking on the Artist "Tom Waits" in that first results screen, you get the screen below – which properly shows the Tom Waits albums I have in my local collection.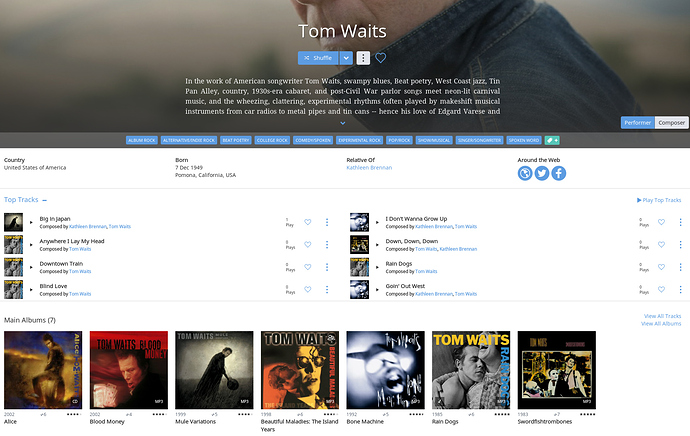 and if you scroll down and open up the album section from Tidal and Qobuz (I have both), you get this:

And this is properly showing every Tom Waits release in Tidal and Qobuz that is not in my main library.
I'll also note the Roon album display is superior to both Qobuz and Tidal as it shows multiple releases of the same album as versions (like the deluxe version vs the non-deluxe version) as opposed to showing them as duplicates in the album list as Qobuz and Tidal does.
This is, in my opinion operating very well and is not broken as you suggest. So I would suggest trying to first understand how to use Roon in the right way and then your feedback may be more constructive…