This might as well be a Tinkering subject, but i'll post it here as a start.
I recently rebuilt my low power Roon Server and decided to go Windows 10 on it. It's built around a ASRock J4105-ITX barebone motherboard, a quad core Celeron for brains. It's nominal processing rate is 1.5Ghz, but steps up to 2.4Ghz and idles at 800Mhz when suitable. This is built into a Streacom FC5 Evo chassi, and powered by a 180w nano-PSU from eBay. Operating system on a 250Gb Samsung SSD and 2*4GB of DDR4 SO DIMM from Corsair provide necessities for function. Oh, and media (which i always try to place locally) is placed on a WD Red 8Tb 3.5" drive in a vibration free mounting.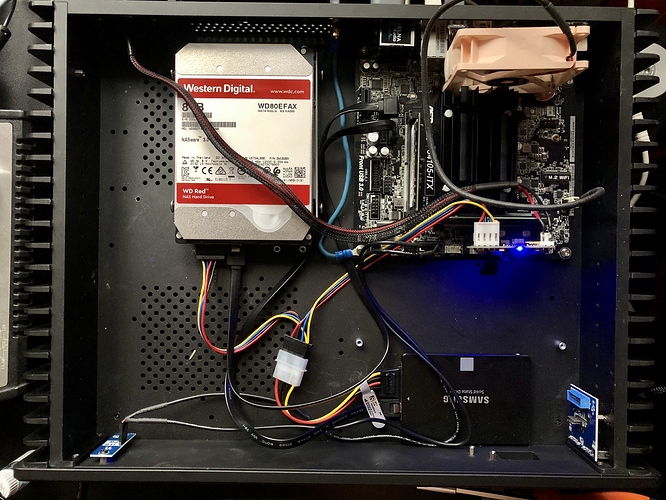 Installing Windows/Roon Server and preparing it to be available headless was a breeze and i didn't feel this 10W TDP CPU was hindering in any way, around 5.5Tb was copied at 110-120MB/sec.
I restored a Roon Backup from a similar machine to ease the burden of initializing the library, but the added around 1000 more albums. I wanted to identify and analyze these as fast as possible so let Roon Core run free with all 4 cores for analysis. It does produce more heat than i care for, so i decided to assist with an old Noctua 80mm fan st this time. Around 65°C on the CPU lid on, and tucked in the rack, but around 40°C like the picture shows.
Anyways, when it was finished and had a Roon library of around 135.000 tracks it was put into service. Since this is a silent machine it has the advantage of being possible to place in the rack permanently, and also to have a direct USB connection to a good DAC. I like this simplicity for everyday listening, but use my Aries and a better DAC for dedicated listening.
I decided to give the Audiophile Optimizer package a try at this time, and this is what this post is about! (Sorry 'bout the long intro…

)
For those of you that dont know what i'm on about, Audiophile Optimizer is a collection of scripts bundled together into a command line based menu system. What they do, is to automatically (well, almost, if you want…) streamline your Windows 10 or Server for audio playback tasks. Most of you will likely have heard about disabling this and that, setting audio like this etc. And, on Windows, massaging the system and it's settings can be a chore, so AO does this for you, and allows to revert changes reasonably easy at the same time.
Why not just run ROCK then? All, ready to play tunes! Well, this motherboard does not do Legacy Boot unfortunately, so getting ROCK is complicated. Besides, i actually believe AO takes the concept of adapting the OS for audio playback/services even further than ROCK does!
So i decided to run Audiophile Optimizer and also to let this server be compared to my default Roon Core, which is built in a similar manner, but way more powerful and with ROCK as an operating system.
I have chosen to run Audiophile Optimizer with the default/recommended settings so far. This can be done by either the "Express" or the "Advanced" settings. Express does most selections for you and automates the process, Advanced is a guided process which adapts the optimizations for your setup type. I used the latter, and at least think i know what the options meant. There is also an "Ultimate" setting which is the most advanced one, but i haven't dared try that one yet.
The end result is a good sounding music streamer/server but i havent compared it to my MOCK server just yet. After optimization the server and OS is still available for RDP login and file management duties etc.
I decided to add my MP3 files to the local drive also, which was swiftly copied across the network, a little slower than the initial copy.
However, after identification i had troubles getting Roon Core to perform analysis on these files. I think some setting manages hard drive caches in a way that doesn't gel with the Roon way of analysing files. It seemed to begin analyzing properly, but almost immediately got stuck?
Has somebody else seen this behaviour?
I decided to back out of the AO settings while analysing which made thing smoother but not completely.
So, what's your experience with Audiphile Optimizer? Whats your favorite settings? And what does the sound flavour and filter settings actually do?