Anyway, of course it depends on one's financial situation, but I got lifetime for 600 euros 2 years ago (it was $699 and the conversion rate favorable) and I wouldn't even think about it anymore if I didn't come across price discussions on the forum

Just like I don't think about what I spent on a week's vacation 2 years ago for the same money. Except that I still have Roon and the vacation is long gone.
IMHO, if it solves much of the problem with the least amount of pain, it's a no-brainer
Roon just came on my radar early this year as I was auditioning various streaming boxes (Innuos, Aurender, etc.) each with their high price tag and clunky interface. So I very much consider my lifetime roon subscription combined with the NUC that I purchased to run it on, as an affordable Audio Component.
I can see how, if I was coming at this from the other direction (comparing Roon to free software on my computer) I might evaluate differently. Everyone has different wishes and requirements and must do their own cost/benefit analysis.
I haven't missed Audirvana for a split second since switching to Roon. It's one known advantage doesn't figure as I have all my music on a 1TB drive on my LG V60 should internet go down.
I realize that I have been unfair to Audirvana. I found it unusable because it was very very slow; it was simply necessary to operate a maintenance in the library. Audirvana has a dedicated tab for this.
Now that the software is operational again, I still think that Roon is much more complete, attractive and ergonomic (note that I own the Origin version of Audirvana). That being said, if a person has no need for a streaming platform and just wants to listen to local library, Audirvana offers a very interesting solution at excellent value for money. As for the sound, I don't think that it can be a decisive criterion for moving towards one of these two softwares as it is good on both applications.
I have been comparing Audirvāna Studio and Roon recently and sometimes I prefer the more open and articulate presentation of Audirvana and sometimes I prefer the more smooth presentation of Roon. Since Audirvana plays louder than Roon it is easy to prefer Audirvana simply because of the higher volume.
In terms of user experience Roon wins hands down. it is so much easier to use. However, the search option in Roon is not as good as it cannot handle spelling mistakes as good as Audirvana does.
BR,
Richard
This is what puzzles me how can two supposed bit perfect players play at different volumes as altering the digital volume level makes it not bit perfect. If they use the same input method they should be the same.
I just remembered I use volume levelling on Roon, an option I have not been able to find on Audirvana. In Roon I use it all the time as I like to play a lot of playlists with songs from different albums, all with their own recording volume. It is the one core feature I miss on Audirvana. It likely is the reason for the lower Roon volume. So it also makes Roon not bit perfect in my case, although I cannot hear any difference in sound quality with or without volume levelling.
BR,
Richard
I did use Audirvana from 2019 to 2022, and I was kind of half satisfied user, or half unsatisfied. It's not about sound quality, which is for me good, using both Roon or Audirvana software.
I did change my network player with one that is Roon compliant. And I try Roon. Result was that I did cancel my Audirvana subscription in 2 days, doesn't matter is subscription was still valid for 6 months.
Difference is about user experience and product philosophy.
Let me explain:
Audirvana user experience, compared to Roon, looks as a prehistorical product, with lots of inconsistencies, poor navigation, no recommendations, no information, miles away from Roon database and community.
Remote apps are extremely poor with Audirvana, lot of bugs, not designed for tablet.
Audirvana move to subscription, but didn't really change the delivery mode and version/improvements are still delivered and yearly base, remote and main apps update are not even synchronized.
My final thought is that Audirvana is made by people that loves technology when Roon looks as made by people that loves music, and this makes a hudge difference.
Roon is more expensive, I agree, but Roon delivers significant updates (Roon Arc with Carplay or Android Auto is a good example), so I consider Roon delivers a good value for the price.
BR,
Didier
I've uninstalled Audirvāna Studio on both my MacBook's and only have Audirvāna 3.5 left installed on my MacBook Pro. I am barely using it.
Roon has become the heart of my music experience both indoors and outside.
Something that Audirvāna is not able to do.
I believe your observation about Audirvāna to be a technician's dream to be a fitting one. Roon's interface is far easier to use and options are far easier to be found. Stuff like playlists, how to stop playing music while also releasing the endpoint etc. Far too cumbersome with Audirvāna.
I have mostly a similar experience with ROON and Audirvana.
I have a lifetime license of Audirvana 3.5 and was on Roon for last 3 months with their 3 month 2$ promotion.
With the ROON promotion ending in Jan23 and reluctant to pay 15USD per month, I tried switching back to Audirvana.
Tried both audirvana 3.5 as well as the new Studio with a trial. BUT it was a painful exercise as I had already relying heavily on the Network play options of roon with RAAT and airplay.
Audirvana may have a different SQ to Roon for directly attached DACs. BUT their network access sucks. Doesn't work at all and the Remote software is buggy.
SO…decided to go back to ROON…
And it works like a song…
Just sharing my experience.
Same experience here, my Roon subscription ended an I was not willing to subscribe for another year so I used Audirvana Origin (I have a lifetime licence). Well, I couldn't take it for more than a week, it's a pain compared to Roon. I am sorry because I really wanted to like Audirvana but they are not boxing in the same league. I really don't understand how the logical brain part of the Audirvana team works (for the ergonomic I mean). Even if Roon hadn't some advanced options, it would still be miles ahead from Audrivana. Back to Roon.There is no game.
Does Audirvana even work on streamers? I know Roon has a lot of Roon Ready stuff.
I tried both A and Roon a few years ago, decided to get Roon lifetime, never looked back.
People complain about Roons price, but there's no software that matches its capabilities.
Well when it comes to UPnP devices, as I recall Audirvana can be either a hit or a complete miss.
I have uninstalled Audirvana Studio, but I still have Audirvana 3.5 installed. And both Roon and Audirvana connect to my WiiM Mini streamer in the living room through AirPlay. As the Mini doesn't have Roon support.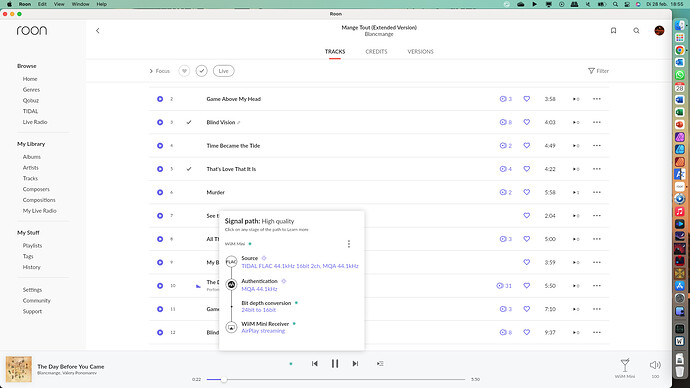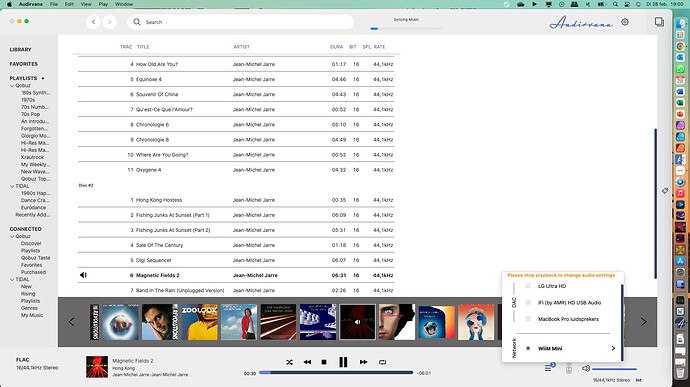 I've come to the same conclusion after 1,5 annual subscriptions and went lifetime last December. It was 699 Euro at once, but Roon plays several hours a day here. Both at home and through ARC at work. For me it was totally worth grabbing lifetime.
I would not use AirPlay. Move your Mini and use a wired connection. Or, is that also limited in resolution?
The WiiM Mini doesn't have an Ethernet connector. Only the WiiM Pro has that. So the Mini is limited to WiFi.
There has been talk by the WiiM team to create an alternative firmware so the Mini can be Roon Ready at some point as well. They are busy certifying the Pro with the Roon team at the moment.
The problem is that the Mini only has 128 mb of RAM built in, and that's not enough to host the RAAT protocol next to all the other built in functionalities.
I've hooked up the Mini to my living room's Harman Kardon receiver through Toslink. And it plays up to 24/96 on it. The Mini itself supports up to 24/192.
But apart from the Mini not being Roon ready, I am very happy with the little 99 Dollar hockey puck.

Which was still cheaper buying through Amazon US, have it priority shipped to the Netherlands, and buying a European power adapter for it. Compared to ordering one through Amazon NL.
But Airplay only does 44.1 or 48, doesn't it?
Yes. It is limited to CD quality. However if I use the WiiM's own app on my iPhone, it can go all the way. Hopefully it will be Roon Ready at some point, because that should unlock the device's full potential using Roon.
That being said. As my living room's hifi is nothing very exceptional. You won't hear much, if any, of a difference anyway.