I have many different types of multi-disc album in my library:
Albums split across multiple discs, because they were too long.
Box sets with different albums on each disc.
Compilations where each disc was mixed by a different DJ.
Deluxe albums with bonus discs.
Roon currently has limited handling of this.
It would be great if disc names were displayed.
For example: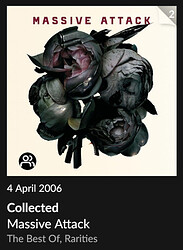 Roon has picked up that this album "Collected" has discs named "The Best Of" and "Rarities."
But when I view the album, the drop-down selection only lists:
This is problematic for big box sets which may have eight or more discs, if you only want to select one of the albums.
And in the case of Deluxe albums, it is extremely rare that I actually want to listen to the bonus tracks together. I mainly keep those in the library for shuffle play/radio.
I have currently taken to splitting those off as a separate "version" of the album, rather than keeping them as a second disc - so that only the main album plays when I select it.
But I think a more elegant solution might be if Roon remembered your previous disc selection.
If you last selected disc 1, the next time you hit play on that album it would only play the main disc - without having to make that selection again.