New to Roon, running through the paces of a trial before committing. I bumped into a small question/issue with the Roon iOS app on an old iPhone 6 (iOS 12.4.5) and wanted to check here, before posting it as a feature request, to make sure it's not a feature I'm simply missing.
The Now Playing screen on the iPhone 6 is a bit busy and takes up a lot of real estate for info other than actually what's playing: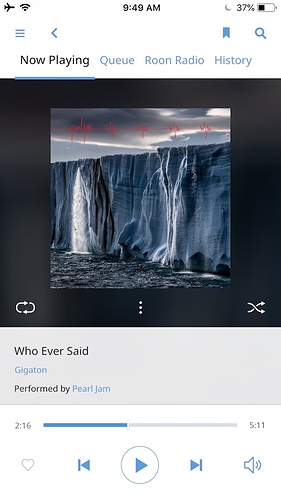 I was hopeful that if you rotated the screen in this view it would reset and show something similar to this example:
The goal would be to use the iPhone to control Roon per normal but when playing just prop it up on a stand to show nice Now Playing album art, song title, and basic play controls in landscape mode. Does the app support rotation at all (doesn't look like it), and/or has anyone suggested this as a feature request?
I'm also considering buying an inexpensive Android tablet (although I've read the Roon Android app leaves a lot to be desired, and I don't have an Android device at home to test with) or even a Microsoft Surface Go, all to have a nice portable Now Playing control/display around the house, so exhausting all options for aesthetics.

Thx!