Core Machine (Operating system/System info/Roon build number)
OS Linux 5.3.0-51 (Ubuntu 19.10) / NUC i3 / Build 1.7 (537)
Network Details (Including networking gear model/manufacturer and if on WiFi/Ethernet)
Zyxel 3000Z modem router, ethernet gigabit connection to core
Audio Devices (Specify what device you're using and its connection type - USB/HDMI/etc.)
Problem is specific to Logitech Squeezebox Boom.
Connected vía Wifi (I think the Boom is limited to b/g)
Description Of Issue
File under minor complaint, but very annoying!
The time zone drop-down setting in Settings->Audio->Squeezebox Boom->Advanced
does not scoll. It requires user to repeatedly click the up/down arrow until desired time zone is found. Hundreds of clicks are required to scroll from the top of the list (Africa/Abdijan) to my desired time zone (US/Pacific).
Happy to provide a screen video cap for illustration of issue.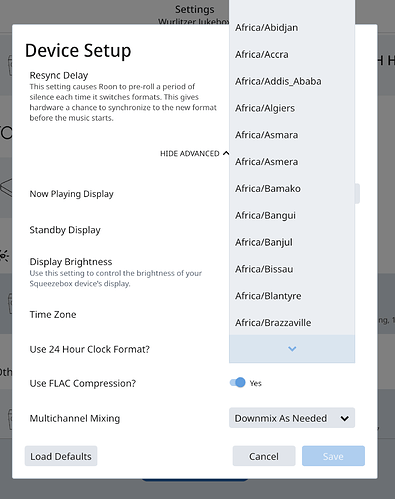 Thanks!