Sorted now

Qobuz: Graceland by Paul Simon
Tidal: Graceland by Paul Simon
Spotify: Graceland by Paul Simon
.sjb
Hi @Jan_Koudijs, Qobuz seems to have disappeared from the results?
Tidal: The Cult of Ray by Frank Black
Spotify: The Cult of Ray by Frank Black
.sjb
Songwhip doesn't provide a Qobuz link for this album. Have you had more albums for which a Qobuz link is not provided?
I'm not getting any Qobuz links for any album
Tidal: El Corazón by Steve Earle
Spotify: El Corazón by Steve Earle
Even the Graceland I posted above doesn't have a Qobuz link now.
Tidal: Graceland by Paul Simon
Spotify: Graceland by Paul Simon
.sjb
If you check the provided Songwhip link does this have a Qobuz link? (You might have to click "Show more")
It was Songlink/Odesli that I use and looking at that link there is no longer a Qobuz link, which explains its absence.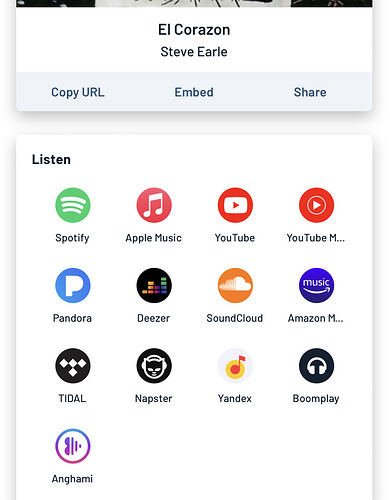 Songwhip seems to still have a Qobuz link, so I'll use that going forwards.
Thanks @Jan_Koudijs
.sjb
Looks like Gmail users need to ask for help to get registered. Help? I bought the coffee.
Jonathan have you checked your Spam folder?
I am a Gmail user and I got my registration back at the beginning of this without issue (though that was a while ago)
Thanks for the great extension!
Would it be possible to open the link to Sharoon directly from a webbrowser, instead from the Extensions in Roon? I feel it's kind of buried when you quickly want to share something.
Cheers,
Dennis.
Edit: I think you can by opening http://x.x.x.x:5501/, where x.x.x.x is the local ip adres of dietpi / roon extension manager
Hi @Jan_Koudijs ,
I'm trying to activate Sharoon 0.3.0, but am greeted with an error. What should I do?



Cheers,
Dennis.
edit: found it