I don't think your DSP5200SE's are gonna be sliding around under cable weight any time soon



If they do, the earth really did move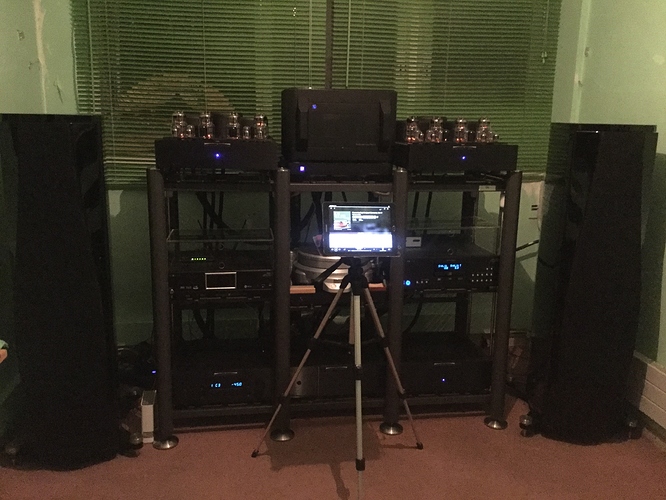 My set on the photo is completely connected to both my sources which are Cary Audio DAC DMS-500
and my reference DMC-600SE . I must admit that the Roon software not only makes it so informative and open endless music sources from all around using the Roon+Tidal which is a stellar combination.
The Roon simply improve the sound in so many ways and all I can say is B R A V O !
My huge stereo setup needed Roon in order to fully enjoy listen to so much geners of music in a superb
quality and clarity… I Love Roon …
this is my set up which include the Rex 2 By B.A.T both the PreAmp and the MonoBlocks …
I am using all cables by Purist Audio The Dominus new Line in all connections .
Here is a photo of my stereo with a remote Roon install on Samsung Tab… My core Music (133000 tracks)
is based on an IMac as main storage… All I miss in Roon excellent software is a Theather View option…
This will make it PERFECT… Just imagine that presentation of all the information Roon provide in a slick show during the playback… GO AHEAD ROON AND MAKE OUR DAY !!!
Enjoy the music all guys.
You need a Manfrotto Tripod next

Looks a lot of fun…
This must be the audiophile version.

($114.59 USD)

Finally, something cheaper in Aus than the US.

I'm seeing $64.41 USD. You must be looking at the de-oxygenated gold-plated version.
Love my Merdian Explorer I and II. At $199, the Explorer II (MQA if you care) is a great value. Have a handful of other DAC/Amps but seems I return to Merdian & my ROON pkg.
You look at the proven Small Green Computer i5 sonicTransporter yet? = highly recommend on all (user & SQ) accounts.
Just discovered how to do basic video editing today - so decided to buck the trend and upload a system video instead of photos:
Nice…gave you your first like in YT
Why does your username sound so familiar…???
Nice chessboard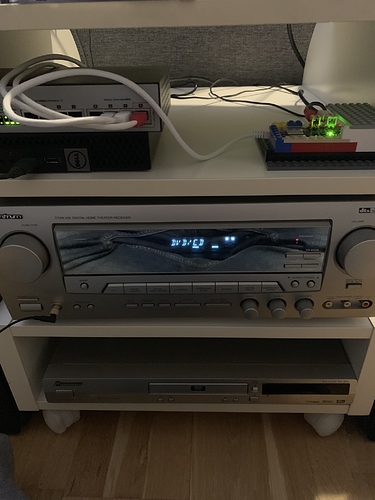 I got the receiver for free yesterday so i`m making it my headphone amp in my new headphone corner. Stole the Ropieee from my kids room, he only listens to Spotify anyway.

No, haven't heard of it. Interesting, will check it out. Thanks for the tip!
Who are you referring to wizardofoz?
He's done a video of them that's now up on the site!
Love it.
Latest news - stainless steel door stop stock prices go through the roof, manufacturers can't keep up with demand, prices rise.
Just wait for the $1000 Audiofool versions

You