I am finding patterns in why I have so many "performer" and "production" credits for long-dead composers. This is coming from roon's meta-data suppliers. I certainly never tagged to this level of detail. For example, if roon finds a:
(1) "Cadenza" credit then roon will categorise the composer as a performer
(2) "Revision", "Liner Note" (probably because of a citation) "Original Material", "Text" or "Orchestration" credit then even more worryingly the composer will be credited as an album producer.
This creates a lot of confusing clutter on various screens where you will see dead composers with long lists of "appearances" on albums and also long lists of "production" credits on albums. It creates unnecessary confusion on all searches on composers as you are often presented with multiple composer, performance, production options and it's easy to click on the wrong thing.
These credits can be manually removed but is there not scope for roon to pre-process these credits more intelligently? More automation must be better. For example, "Original Material" seems to be used for the "theme" composer when the work is something like Variations on a Theme by Composer X by Composer Y. If I change the tag to "Composer" instead of "Original Material" then the production credit disappears. Similarly many composers extensively revised works over the years so if I remove the "Revision" tag then the production credit also dissapears.
Even more inconsistently I notice that contemporary performers that improvise their own cadenzas are credited as "Composers". On the other hand when a performer uses the Composer's suggested cadenza, that Composer is credited as a performer (even long dead ones). There must be a better way for "smart" handling of Composer performer and production credits.
Edit
Just to keep things in one place.
It is also possible for one composer to have production credits on another composers album. Now that I am finally getting around to manually deleting these annoying composer performer and production credits I can see the wood for the trees. Bizarrely in this example Schumann has production credits on Chopin, Wagner and Brahms albums: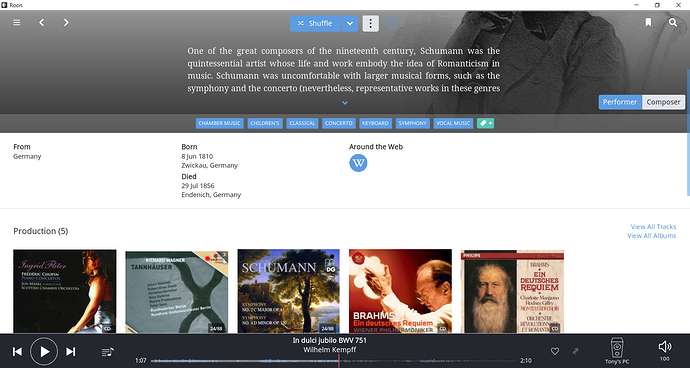 What is causing this is an album level credit of "Quotation Author". So in the album booklet Schumann has been cited in relation to text on the other composers. If you don't like these production credits then this one has to be deleted at an album rather than a track level