I've been listening to a lot of Fourplay, jeff Lorber, Euge Groove lately. Any good Smooth Jazz recommendations?
Latest Phil Perry album is good. Stretching the envelope a little Lindsey Webster is absolutely fabulous. From the genre classics the Joe Sample and Randy Crawford collaboration is a must.
Personally I need some RnB or soul in my smooth jazz to make it interesting. If you want to head that way Norman Connors could be worth a listen.
Please share what you find. Always interested in finding new directions for my listening.
I have been listening to Fourplay for many years…these guys are an all-star group that provide well recorded quality tracks!
Some other great Smooth Jazz favs…One of the things I like about Smooth Jazz is that most of the artists are really well recorded…I am huge headphone guy so I really appreciate well recorded music!
Boney James!!! R&B Soul!!! Everyone one of his albums rock! Mostly Sax instrumentals
The Rippingtons, Spyro Gyra, Lee Ritenour, Diana Krall, Dave Grusin, Film & the BB's, Candy Dulfer, this Gal can really play the Sax!, Steve Oliver,
Let me know if you'd like more suggestions!
I am a jazz fan but more of stratight ahead(?). Labels problematic!
Early smooth to me favorite in the Michael Franks era: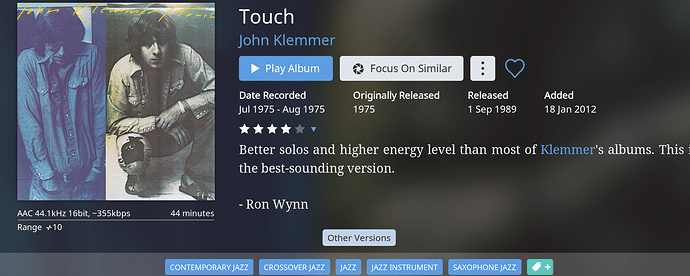 Artists to explore:
Grover Washington Jr.
Dave Sanborn
Gerald Albright
George Benson
Jeff Lorber
The Rippingtons' 'Fountain of Youth' gives the system a good workout.
Also, '6 String Theory' by Lee Ritenour is excellent.
6 string theory is not what I would call smooth jazz

Russ
Lee Ritenour is a Smooth Jazz performer.
Am I Wrong,
L.P (for Les Paul,
My One and Only,
Moon River,
Daddy Longlicks,
Shape of my Heart,
Drifting, and,
Legnani…
On '6 String Theory' are Smooth Jazz tracks (while the rest are more Jazz Fusion).
Agreed as in Fourplay for example, but not that album IMHO.
Russ
Smooth Jazz. Bob James. Arguably started it all. Here might be his most famous album. Also, check out his work with Earl Klugh.
Good thread… I am looking to build a Tidal playlist of mellow jazz to listen while I work, so mellow but somewhat interesting and not too bluesy… a little more upbeat. I have several playlists already, but looking for new inspiration… Recommendations welcome!
http://i.imgur.com/iRXESJb.png
These guys more or less invented smooth jazz. Tidal has plenty of their albums, although most are as "The Crusaders." Well worth checking out.
This is a most interesting title! I assume you've ripped from original CD(s) as I can, sadly, not find it on Tidal nor from any of the usual commercial download sites. Discogs doesn't even have it in its database. A very few of these in box set version are on Amazon and eBay (and fetching a pretty penny I may say). Would be interested to know how you rate this release amongst the Jazz Crusader's catalog.
This is a Mosaic box set:
You can find it used, but as you say, it goes for a premium price, which is normal for out-of-print Mosaic boxes.
These sessions are really good and Mosaic always does a great job with remastering, so I like this collection quite a bit. Honestly, though, I first encountered The Jazz Crusaders as The Crusaders in the 70s, and the albums from that era are available on Tidal. A couple of my smooth jazz favorites:
http://i.imgur.com/nQXpoNO.png
http://i.imgur.com/ieop7Ec.png
The early material in the box is interesting, since you can hear the seeds of later work mixed in with the Crusaders' bop and soul roots. I think most critics would say that their "prime" period is in the 70s, with Larry Carlton on guitar.
Many thanks, David. This is excellent info and nice suggestions. The audio samples of The Pacific Jazz Quintet Studio Sessions on the Allmusic site are invaluable. Much of what I heard is right up my alley and I'll likely consider acquisition options.
Your mention of Larry Carlton reminded me of a suggestion of my own that I could make for the thread. Larry Carlton & Robben Ford Unplugged is a bit of an under the radar release but is outstanding and worth sharing. Hadn't specifically thought of it before as smooth jazz, yet it fits the bill. Two of the great jazz/blues guitarists out there, performing live, small combo, and semi-acoustic. Awesome balance of groove but relaxed sound. And doesn't hurt that it's a superbly (IMO) recorded live set. One of the very best live recordings of any genre that I have in my collection. Available on Tidal as well, and their version sounds essentially as good as my CD rip.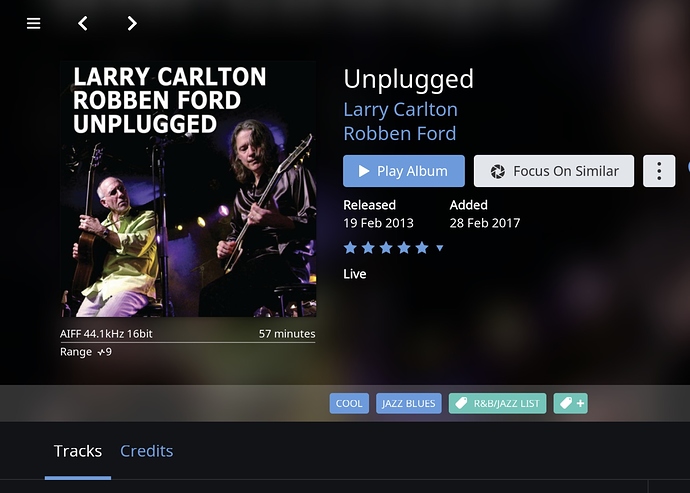 Thanks for the recommendation of Lindsey Webster…she's got a great voice and "Back to Your Heart" is recorded so fabulously…I just wish she would change up tempos more often so the Album does not sound like just one song…but recorded so well! Beautiful imaging with her voice floating wonderfully large! Love Smooth Jazz for almost any occasion…!
Going to see Dave Koz tomorrow in Napa…this guy not only rocks the Sax but he is quite the showman…!! I have got all his albums!
Skip the entire category and listen to some real improvisations, not funk masquerading as jazz:
Kenny Dorham
Horace Silver
Art Blakey & The Jazz Messengers
Dizzy Gillespie
Jim Hall
Art Farmer
Sonny Stitt
Dig?