Hi, is there a sorting option function for My Favorite tracks? Like (alphabetically) or last added…?
When you are in the tracks menu, you can use the favorite/heart button to filter yout favorites. In this view, you can choose which column you want to add/replace. Right-clicking on a column header will show the sorting options available. Clicking on a column header will sort the list with increasing/decreasing values.
Hope this helps.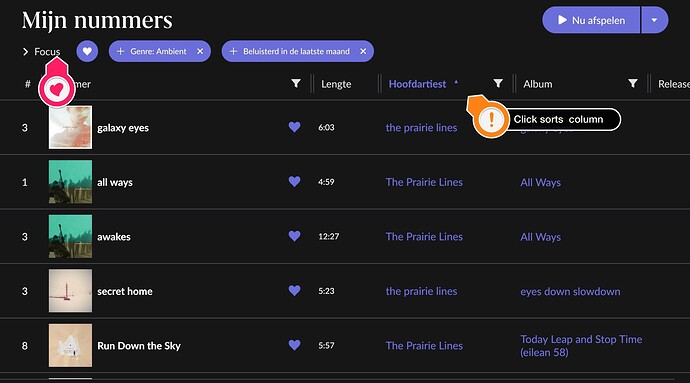 Robert,
Thank you very much for your reply! I can do what you suggest on Tracks under My Library, but what I can not find is how do I do that under Browse>TIDAL>My Favorites>Tracks. I can not see any heading on that list! When I change the order in TIDAL app, and go back to ROON, It does not re-sort in ROON.
Maybe you could do it this way, using Focus:
Tracks>Favorite, open Focus and select Storage location (My Roon is in Dutch). In the screenshot, Qobuz Library is shown, I would think Tidal would show up in your case.
Once you have the correct selection, add a bookmark for future searches with these criteria.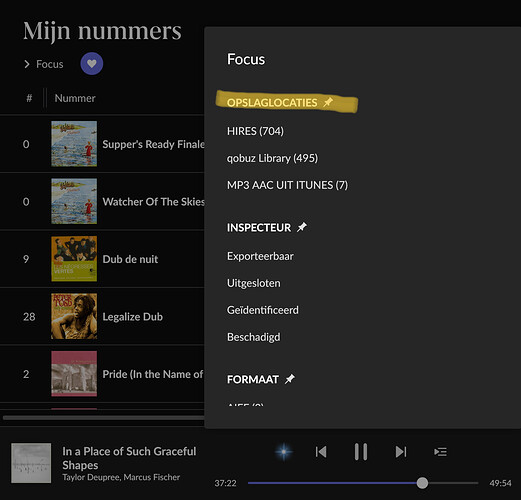 Thanks or your efforts. I don´t find a solution with Focus settings in Tidal library… I give up for the time being.
Thanks
Harald