Please add below mentioned radio with tune-in reference.
Location: Russia
Hi @AleSlo, we're not able to use Tune-in streams in Live Radio, so please can you try and source a direct URL for us to use?
Also, as I don't speak or read Russian, I will need to copy and paste as much of the required info as possible from this list:
Name
Stream(s)
Website
Description
Image (logo) location
Has Explicit Content?
Has Advertising?
Terrestrial Radio Band
Terrestrial Radio Frequency
Location (name)
Latitude, Longitude
Languages Spoken
Categories, e.g. type of music played
Keywords

thanks
Nick
Hi Nick,
I requested information directly from their support. In case their reply I will place it here. Other case I will fill in it myself.
Привет. Русские станции пока что быстрее и проще добавить самому. Я обычно делаю экспорт ссылки из tunein, если я могу достать ссылку на более качественный поток до корректирую.
Привет. Я не могу понять как в новой версии самому добавить радио.
Нашёл, в My Live Radio, спасибо.
В меню появился пункт My Live Radio, это те станции что добавляешь сам и избранные, там есть ДОБАВИТЬ +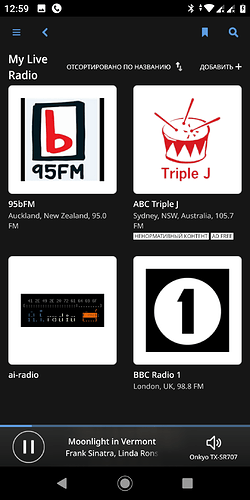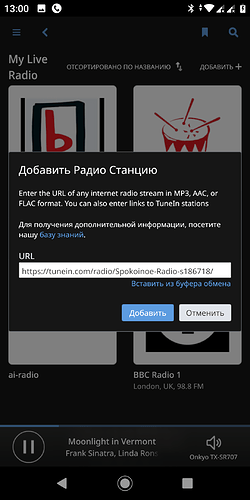 обавить
Hello @AleSlo and @Vladislav_Shkarovski, I was going over old threads and found that this request had never been completed from our end.
It's a bit late, and I apologise for that, but I've added Spokoinoe radio to the database. I realise you probably have added the tunein reference to your My Live Radio, but never mind.
Brian