Roon Core Machine
SuperMicro embedded ITX mb with Intel(R) Atom™ CPU C3758 @ 2.20GHz, 32 GB ECC memory and 12+ TB RaidZ2 storage
OS TrueNAS 13.0/FreeBSD with System76 Pop_OS (Ubuntu Jammy based) in a VM for Roon Core
Roon Controller iPad Mini5 running Controller 2.0
Roon Ark Offline mode set. Roon Ark now deleted.
iX Systems offers TrueNAS Core and Enterprise on FreeBSD and Scale on Linux for cluster file service to Linux clusters
Networking Gear & Setup Details
Ubiquity UniFi DreamMachine Pro, Switch-8-150 Core switch, Switch-8-50 rack switches Core and Bridges are all on Cat5 Ethernet.
Connected Audio Devices
2 HiFiBerry Digi+ transport on Raspberry Pi 4B
1 Allo Digital DigiOne Signature on Raspberry Pi 4B
Core Settings About reports all Roon Bridges as version 1.8 software
Number of Tracks in Library
48000 tracks, about 600 titles local
Description of Issue
Roon Core and Roon Remote loses connection. Playback stalls. Play queue empties. Gets progressively worse as core runs. Rebooting Core appears to heal Core for a bit.
Hypothesis: Mixing Roon 2.0 Core with Roon 1.8 endpoints is bad joss
In reviewing RaspberryPi software, no provider is identifying the version of Bridge that is running. Roon About shows versions in use.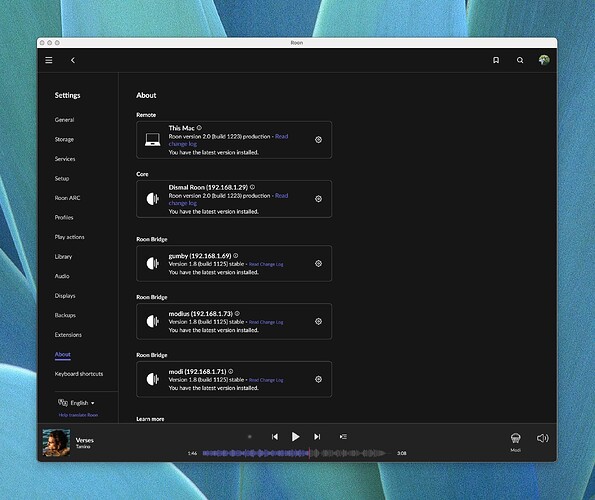 All nodes used regularly are running RoPieee XL RoPieeeXL 2023.02 (0745)
Tivoli is using HiFiBerry 20230223 which picks the proper hat driver automatically
Some interesting things: .NET is available for FreeBSD (TrueNAS Core OS). FreeBSD supports the Linux ABI. Administrative procedures to configure Roon Core as a service are different in FreeBSD.