Bit of a click-bait title but hear me out friends and I'll get right to the answer.
RME ADI-2 DAC FS + HQPlayer Embedded
That's right. This combo is simply spectacular! It's now my primary signal chain.
First the parts list and the prices I paid without tax and any shipping (USD):
DAC RME ADI-2 DAC FS (AKM) $999
MB ASUS Prime Z690-P D4 $149.99
CPU Intel i7-12700K $324.00
Case be quiet! Pure Base 600 $79.92
PSU Thermaltake GF1 Snow $89.99
RAM Kingston Fury Beast RGB 16GB x2 $105.98
AIO Corsair iCUE H150i RGB $159.99
Paste ARCTIC MX-6 $9.79
Total: $1,918.66
Parts from the bin or things I already had that cost me zero:
Complete Pi 4 as NAA Endpoint USB to RME
microSD Card in USB adapter to boot Embedded
Ethernet cables, USB cable, monitor, keyboard, etc.
Another computer to burn images
Roon, network, internet, etc.
HQP Embedded License
Performance?
I can do DSD256x48 (max RME supports) without issue. Here is example: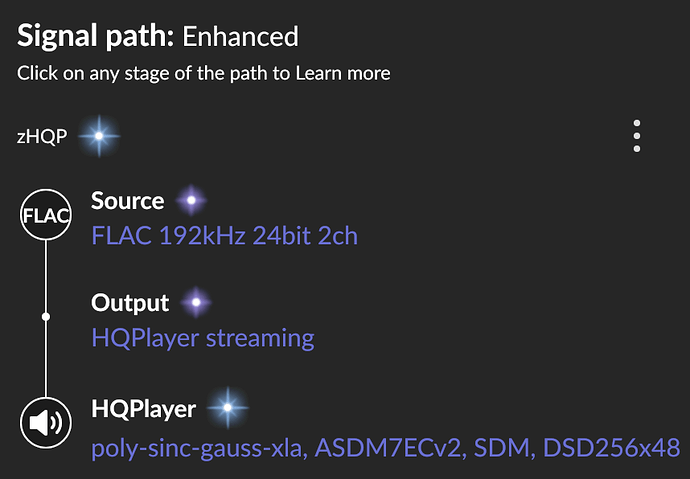 Story:
I got interested in HQPlayer back this summer by loading Embedded in a VM on a small Ryzen 5 PRO 3350GE desktop machine. This was pointed at my Schiit Yggdrasil OG. This, obviously, was PCM only and the Ryzen did just fine. However, the changes in sound quality were not worth the cost / hassle. The Yggdrasil OG has a very excellent, to my ears, filter and I've always been happy with its sound.
But, I'm a huge fan of DSD and I knew my next step was HQP + a DSD DAC. I went on the hunt for an ADI-2 with AKM chip and, by almost luck, I found one new in box at a retailer who honored the RME price of $999 at the time. Great, I had my DSD DAC for $999.
This allowed me to play with the DSD modulators on the Ryzen machine and I quickly learned 2 things. First, I really liked the poly-sinc-gauss filters; especially -xla. Secondly, the Ryzen 5 did not have the horsepower to do this at DSD256. It was close, very close, at DSD128 but it would thermal throttle and fall over. I didn't use the RME or HQP much knowing I needed more power grunt
Bring on Cyber Monday! I woke Cyber Monday and decided, if I could put a system together for under $1000, I'm pulling the trigger and building a dedicated HQP Embedded machine. Frantic research and tracking prices and my cart soon had the above combination of parts. Then it was time to sit and wait. Come to find out my ordering wasn't perfect, that's a different story, and some parts took a couple weeks but here we are.
I've been using this system for about 2 weeks listening to various formats and I'm very happy with it. I suspect it's about maxed out at DSD256. But, really, that's OK because my next DAC will probably be Holo May KTE @ DSD1024. That HQP box + DAC is an easy $10k. So, for now, this is the best DAC under $10k and I only spent $2k to get here.
Happy listening to me! I'm loving HQP and what it's bringing out in the music. I've run just darn every filter that looks interesting and certainly have my favorites for various genre at this point. It really is a game changer and absolutely proves there will never be one filter to rule them all. Having the ability to switch the filter is the right answer. It makes the RME a total chameleon. It's the ultimate sound quality weapon and combination and I can't believe it's only $2k!
Well, that's my story. Happy Listening!
Some notes on the various parts:
The motherboard and CPU combo should let me overclock at 5Ghz or slightly higher. I'm not doing this right now and am simply using the bios settings to let it boost to 4.9Ghz. It rarely ever boosts to those frequencies and is happy siting at 3.6 most of the time.
AIO was purchased to give me better thermals if / when I overclock. The CPU runs really cool, like ~40c. I saw it hit ~70c once, ~75c once, but next time I ran the command it was below 60c both times. I'm happy with the thermals.
I'm running the RAM in the following profile:
DDR4-3000 CL16-18-18 @ 1.35V
I am testing lower latency vs higher clocks. I don't know if this makes a difference but it's working so great.
RGB
I didn't want RGB but that's what was on sale so I have some RGB now.
PSU
This is a 750 watt CPU which will allow me to add a GPU at some point. That should get me more life out of the thing. Might even let me do DSD512? I'll need a different DAC and a GPU to test. Maybe next Cyber Monday.
Noise
I'm really impressed with the be Quiet! case. It's certainly not something I'd want in my music room but it is significantly quieter than I was expecting. I expected a wind tunnel but it's seriously just a low hum from across the room it's currently in. Highly recommend these cases.
Ask me any questions here as I'm excited to respond. I'll also be talking about system, and showing it off, tomorrow at @Rugbys Roon Talk 20:00 UTC. Look for a post in Off Topic.