Content you're reporting an issue with
Hello!
Trying to stream the radio station from New York called "The Lot".
When I hit play in Roon on that station, it says:
"Unable to play this station. Its address may have changed, or it may be temporarily unavailable."
The radio station works from their website.
Thanks!
Have you made any edits to this content in Roon?
Is the album identified in Roon?
Is this content from local files, TIDAL, or Qobuz?
Screenshot of import settings
![image|231x500](upload://epASXWe840OIVOnSkuRq2QhX18u.jpeg)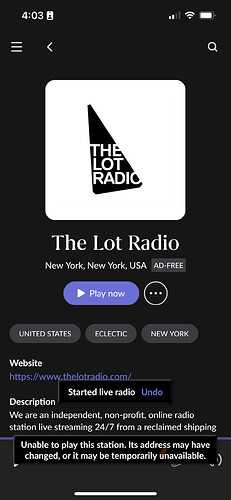 Description of the issue